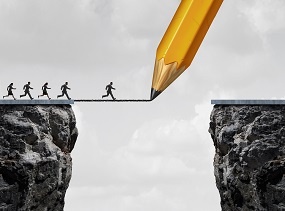 So, your client's employee benefits package includes group disability coverage. Great. "What percentage of salary is covered?" you ask. The response is something like "I think 66 percent." The client feels secure that in the event of a disability, expenses can be managed if two-thirds of the income will be replaced. For someone earning less than $100,000 that may be true, but anyone earning more than that, the reality may be look very different. The chart depicts the monthly group LTD benefit of a policy that replaces up to 66 percent of salary with a maximum benefit of $5,000, a common group benefit limitation. It also illustrates the considerable gap in protected salary for those earning more than $100,000.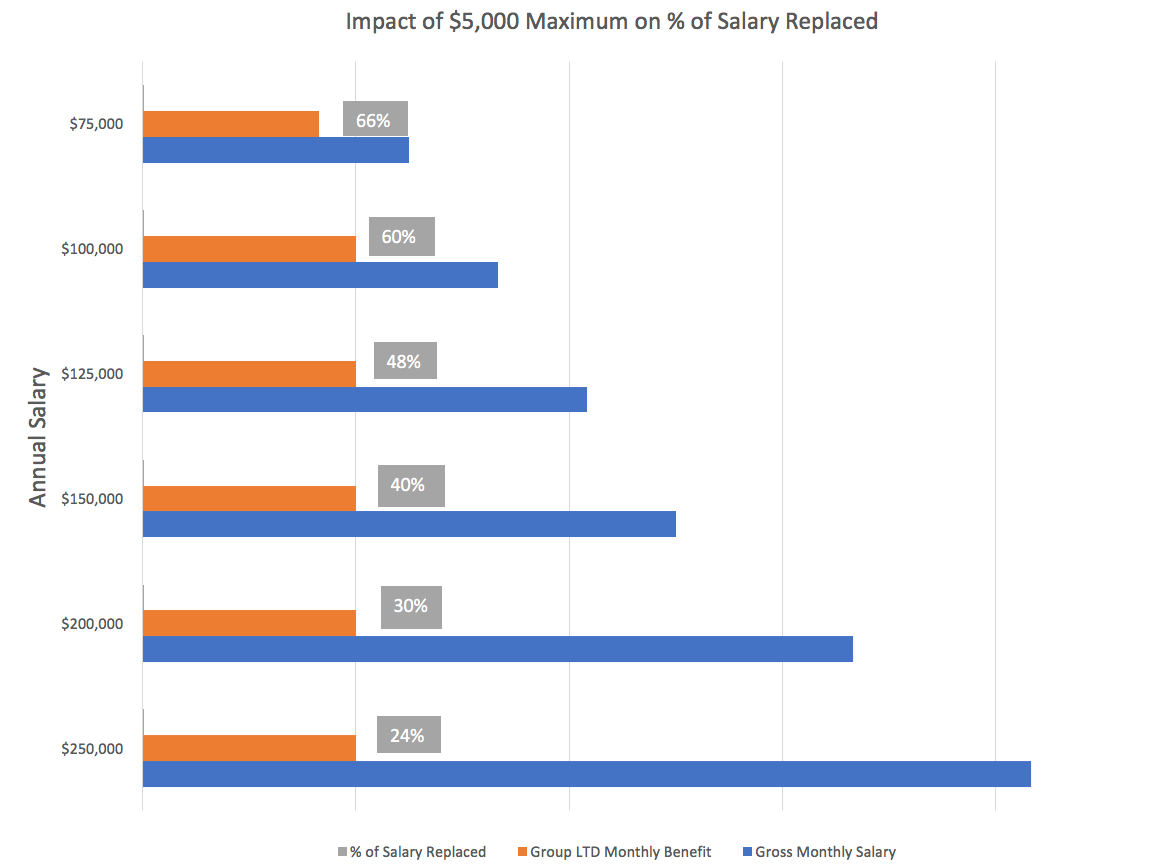 There is a simple and easy solution to equalize this disparity in income protection. A Guaranteed Standard Issue (GSI) multi-life DI program. With a few as five lives, an employer can add an additional layer of income protection for higher earning employees and themselves. A GSI disability insurance plan means no medical requirements for applicants, they are guaranteed coverage. The employee owns the policy and may continue coverage when changing employers. The employer may offer the program to a select group of employees and has three premium payment options, 1) pay the premium for the benefit, usually tax-deductible, 2) share the cost of premium with the employee, or 3) employee pays the entire premium. For the producer, enrollment is easy, and there are no embarrassing exclusions or denials.
Guaranteed Standard Issue disability insurance programs are a good fit for firms with well compensated professionals. Engineering firms, architectural companies, computer systems companies, software businesses, judges, marketing managers, and financial professionals. Your own firm may be the perfect place to start. GSI programs also allow for an expanded definition of salary to include bonuses and commissions. Companies that use large annual bonuses as incentives are another good match for a Guaranteed Standard Issue plan. An employer whose sales force is mainly paid via commission may be interested in GSI as a supplement to the group plan. The standard group LTD plan typically defines salary rather narrowly and may not include bonus and commission in the benefit calculation. GSI can be introduced as the sole income protection benefit. The flexibility in payment options offers an affordable add-on to a benefit package lacking income protection.
The simplicity and certainty of GSI makes it an uncomplicated way to enter the disability insurance market place. Look to DIS for more insights and ways to get started with a multi-life GSI plan. Guaranteed Standard Issue Disability Insurance: Good for Your Practice, introduces the many benefits of working in this market. A follow up article, Guaranteed Standard Issue Disability Insurance: How to Identify Prospects is newbies primer. Ready to get started? Then call your DIS representative.
Please follow and like us: