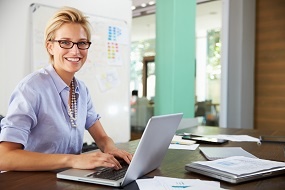 Our article from last month, Guaranteed Standard Issue Disability Insurance: Good for your Practice makes the case to give some attention to multi-life GSI opportunities. This time around we'll look at three strategies to identify prospects and make the sale.
Target markets
Developing a new market takes time. You spend time to learn about the products that serve the market so let's increase the return on your investment by targeting employer groups that we know are a good fit for GSI. Group LTD benefits come with a maximum monthly benefit amount that limits the paycheck protection offered to high earners. Groups that by nature of the industry include well compensated employees are a good fit: law practices, accounting and CPA firms, engineering and architectural firms, and technology companies. Group LTD benefits often base the benefit calculation on base salary only, which in effect, excludes bonus or commissions. A GSI plan is appealing to companies with employees whose total income comprises base salary commissions and bonus: financial practices, bankers, software firms. Employees of software firms may add upwards of $70,000 to their annual salary due to commissions.
With or without group LTD
Guaranteed standard issue (GSI) disability plans are often combined with an existing group LTD benefit. Target employers known to include LTD coverage in the employee benefit package. Background information from current clients may provide some insight to which employers in your area offer group LTD coverage. Even employers in the target markets that don't currently offer group LTD can be a good prospect for two reasons. First, a GSI program will provide paycheck protection and can do so without adding to the employee benefit expense. Secondly, a GSI program may give the employer a reason to reconsider offering group LTD. When a GSI plan is place, the employer has more flexibility to reduce the group LTD maximum benefit amount which in turn reduces the premium, making the benefit more affordable. Either way, group LTD coverage or not, you are in a strong position to make a case for GSI as sole coverage or supplemental coverage.
The numbers tell the story
Group LTD alone leads to a form of reverse discrimination. An employer-paid benefit of 60 percent with a $5,000 maximum benefit provides 60 percent of income that is then reduced by State, FICA, and Federal withholding. An employee earning $99,000 or less is not impacted by the $5,000 benefit maximum. On the other hand, the highly-compensated employee has considerably less income protected.

With supplemental individual disability income provided by a GSI program, the protected income in the highly-compensated example now looks like this. If the supplemental disability is paid by the employee with after-tax dollars, the benefit is not subject to State, FICA, and Federal withholding.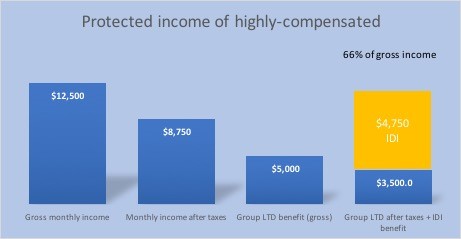 When confronted with the real protection gap, decision makers (who may also be highly-compensated) will see the benefit discrimination. The second chart can also be a powerful representation to share with employees enrolling in the plan.
Your DIS representative has other suggestions for getting started with Guaranteed Standard Issue disability insurance. Also, download our case study, "The Golden Opportunity of Multi-Life Disability," which shares the successful implementation of a supplemental disability plan. Contact us today.
Please follow and like us: