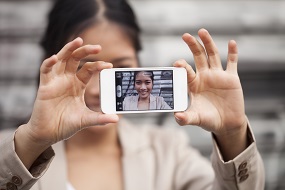 Disability Insurance Awareness Month is just three weeks away. How is your campaign planning progressing? Last week we outlined the free resources available from the folks at LifeHappens.org. If you missed it, check out our blog, "Are you ready for Disability Insurance Awareness Month?"
Tools to connect with Millennials digitally
If you have millennial children or family members you know that best way to connect with them is via their smart phones. By now, you've heard the message loud and clear that Millennials represent the largest market for disability income insurance. Lucky for you, the free DIAM resources are intended for digital marketing use.
The DIAM campaign materials include six general education posts. That's a perfect way to start your awareness campaign. Tweet or post on your Facebook page to begin the education conversation. Infographics are a very effective way to tell a story. Use the eight infostats in an email or on your website. The messages can be compelling, especially to those with little to no emergency savings.
A resounding message
Most Millennials share a similar financial concern: student loan debt. Regardless of income or employment status, student debt must be paid. Millennials with student debt understand the financial difficulties they face if they default on student loans.
According to Pew Research, 37 percent of households headed by an adult 40 or younger carry student loan debt. The research also reveals that those households carrying student debt also have higher debt balances in general.
The point of sharing this research is to help you target your message. Staying current on student loans is a financial priority for many Millennials. And even though this generation is under-represented in the disability income insurance market, they do, as a cohort, recognize their vulnerability to an interrupted paycheck.
A few weeks ago, we shared the MetLife research about Words that Work when talking to clients about disability insurance. In preparation for Disability Insurance Awareness Month, rethink your sales script to adopt the phrases proven to be more effective with clients. Targeting a college educated Millennial carrying student debt can be a successful DIAM tactic.
As always, count on DIS for access to the best markets; case design assistance; and countless sales tools. Make this May be your strongest DI sales month ever. Let us know how we can help. Also, download our DI Broker Opportunity Kit if you haven't already done so.
Please follow and like us: