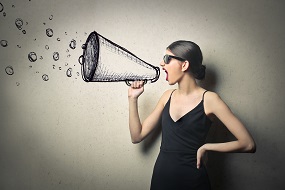 If you ask most insurance professional to identify the most difficult part of their jobs, many would say it is developing new leads and creating awareness for new products with current clients. If you also feel that way, here's some good news: Next month, the well-recognized non-profit organization, Life Happens, will sponsor a national campaign to achieve those goals.
May is Disability Insurance Awareness Month (DIAM). On behalf of DI professionals, Life Happens leads the charge to talk to consumers about the importance of disability insurance. Thanks to DIAM, your clients will see national advertisements about the importance of disability insurance.
Inspired? You will be! Take a moment to listen to Rosemarie Rossetti, DIAM 2015 spokesperson, share her disability insurance story in a special video message for insurance professionals.
Leveraging the DIAM campaign
In addition to warming the public to a DI conversation, Life Happens offers four sets of digital campaign materials available for download.
Consumer education
Sometimes, referring clients to a third party can help confirm their decision, or add another component of credibility to your conversation. Life Happens has a great consumer website that explains disability insurance and shares facts about the reality of the occurrence of an income-interrupting disability. You might consider adding to your website a permanent link to LifeHappens.org.
Use April to prepare your DI awareness campaign. If you haven't already done so, request a DI quote engine icon for your website. And if you have questions about products, carriers, or getting a quote, call us.
Stay tuned! Next week, we'll provide other tips about maximizing Disability Insurance Awareness Month.
Please follow and like us: