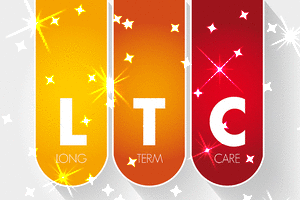 November is not just about turkeys and pumpkin pie. November is also Long-Term Care Awareness Month, sponsored by the American Association for Long-Term Care Insurance (AALTCI). This year is the 20th anniversary of the event designed to raise awareness for insurance professionals and consumers.
The 2021 Insurance Barometer Study from Life Happens and LIMRA found that paying for long-term care is the top financial concern for one in four Baby Boomers. Even Millennials are interested in talking to a financial advisor about long-term care insurance.
Online sources and local television stations will likely cover Long-Term Care Awareness Month. Many of your clients will see a story about the importance of planning for long-term care needs, which is a great "foot in the door" for you.
Below are a few easy ways you can capitalize on the publicity and kick-off your own long-term care insurance campaign.
1. Spotlight long-term care insurance on your website by linking to industry resources like:
LifeHappens.org This consumer-focused nonprofit organization has a Long-term care section that includes: LTC 101, stories from people who benefited from long-term care insurance, a needs calculator, and FAQs.
acl.gov/ltc This website dispels some of the myths about Medicare and long-term care. There's information on legal steps, costs, housing issues and more.
AALTCI.org Get the Long-Term Care Awareness Month Banner Artwork, statistics, current information for consumers and more.
2. Be sure your clients think of you when they start to plan for long-term care needs.
Reach out via email to your clients who are between 40 and 60 years old. You can use long-term care awareness sales letters and marketing tools available in AALTCI's Producer Toolkit.
Also, take advantage of the DIS Insurance Marketing Email Guide. This guide helps you keep your sales pipeline full with more than 20 lead-generating email templates. The emails can be customized with your agency information.
Finally, Thanksgiving is a great time to hold an open house or customer appreciation event for your clients. Be sure to have long-term care handouts readily available.
3. Take a moment for a quick long-term care insurance product refresh.
If long-term care isn't your primary product line, you may want a quick product review before you talk with your clients. Start by downloading the LTCi Broker Kit. Then, our Ultimate LTCi Case Design Resource covers the different types of long-term care products and the optional riders available to customize the product for your client. Contact us with questions anytime – I'm always happy for the opportunity to assist.
Remember DIS is your long-term care insurance resource. Many people are realizing they need to plan for long-term care, but according to the 2021 Insurance Barometer Study, only 18% of people currently own long-term care insurance. The door is wide open to fill a major need and succeed!
Please follow and like us: