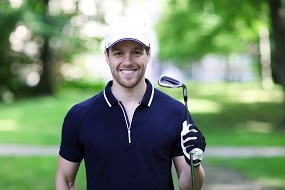 With a bit of customization, standard disability insurance provides sufficient income replacement protection for many professionals. Many business owners, manufacturers, retail, educators, even medical professionals have salary ranges within standard policy limits and compensation arrangements are relatively straight forward.
What about those who earn more than an average salary or who have income sources beyond salary, commission and bonus? These people are often overlooked. They need specialized disability insurance protection. Below are some examples:
1. Athletes
Do you have a golf or tennis club in your town? You will probably find a professional golfer or tennis player. Maybe you have a local resident on a pro tour. If we're not talking about Phil Michelson, compensation levels may fall into a standard DI policy, but sources of income may not. Professional athletes often have endorsement packages that would end if an injury or illness interfered with performing the sport. Hear more from a pro golfer who purchased an individual disability policy below:
Look beyond the local club. Does your town have an Indoor Arena Football League? There are plenty of professional sports figures that aren't in the NBA, NFL or MLB. There are at least 10 independent baseball leagues throughout the U.S., all of which employ professional players, coaches and managers.
2. Radio and Television Personalities
You may be listening to or watching your next disability insurance client. Local radio and TV personalities may have a need for specialized disability plans. As with athletes, endorsements can be a common source of income that would not be covered under a conventional DI plan. Across the board, people working in the performing and visual arts (models, dancers, actors, artists) have unique needs for disability insurance.
3. Commodity Traders and Brokers
Income levels of commodity traders and brokers often vary from year to year. The highs and lows of annual income can present a challenge for a standard disability plan. During the good years, income can reach very high levels requiring a disability insurance plan with rich monthly maximum benefits. Some carriers offer DI plans designed to overcome both challenges.
4. Executives and Owners
Have you talked with the major employers in town about paycheck protection for executives and owners? If not, what are you waiting for? Guaranteed Standard Issue disability plans protect income of high earners and have flexible payment options. Most commercial businesses with a board of directors compensates board members for their advice and guidance. Total compensation to someone serving as a director on more than one board can be quite substantial. The additional income is supplemental to the primary employment salary, bonus, and other compensation. Board members are subject to the same risk of suffering an income limiting disability as anyone else. Only an individual, specialized disability plan can protect all sources of income.
The Bottom Line
Although these types of professions may not be common, they can be found in just about every city or town. With a little detective work, you may unearth a whole new segment of your community to talk to about the need for disability insurance. You won't need to investigate the insurance solutions though. DIS has access to carriers and products that serve each of these markets. Identify some prospects and then call your DIS representative for a quote.
Please follow and like us: