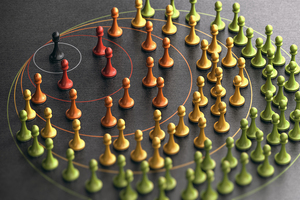 If you're trying to earn a lucrative income selling disability insurance, a lack of need isn't a problem. The CDC says that 61 million adults in the U.S. live with a disability, while the Council for Disability Awareness says that one in three working Americans lacks adequate disability coverage. Clearly, the need for income protection is there. But reaching the right prospects and educating them on the benefits of disability insurance is another issue entirely. That's where Centers of Influence come in.
Word of Mouth vs. Centers of Influence
When people tell other people about products and services, it's called word-of-mouth, and it's a powerful marketing tool. In fact, Semrush says that word-of-mouth is responsible for 13% of all sales and drives $6 trillion in annual global spending.
Semrush also says that word-of-mouth results in five times more sales than paid ads, and 90% of people are much more likely to trust a recommended brand, even if the recommendation comes from strangers. The amazing success rate makes sense when you stop to think about it. Many people just don't trust advertisements – but they often do trust other people.
To benefit from word-of-mouth advertising, you can encourage your clients to recommend you to their friends and family or to post about your services on social media, but let's be honest – disability insurance isn't the most exciting topic. It's personal, and your clients might not want to chat about their coverage decisions with everyone they know.
Centers of Influence provide another approach. Instead of depending on clients to talk to their friends and family, you focus on building mutually beneficial relationships with professionals in other industries.
How Centers of Influence Work
Let's say you meet an accountant. We'll call him Greg. Greg doesn't sell insurance – as an accountant, that's outside his area of expertise – but he knows that a lot of his clients need additional insurance coverage to protect their assets. Greg thinks you're an excellent insurance agent, so he starts recommending your services to his clients.
If this sounds like a perfect match, you're beginning to understand how Centers of Influence can work. By networking with other professionals in various industries, you can tap into a stream of referral business.
Establish Networks with the Right Professionals
To create your Centers of Influence, you need to establish networks with professionals in other industries. The first step is figuring out which industries would be a good fit.
Think about your ideal prospect. Aside from disability insurance, what other services or products does this ideal prospect need? For example, if your ideal candidate is someone who recently bought a house and needs disability insurance to protect the mortgage, a real estate agent might be an excellent fit as a Center of Influence. Homeowners associations and home renovation companies might also work well.
Or maybe your ideal prospect is someone who earns a substantial income and needs to protect it. In this case, you might look at services that appeal to people in that income bracket, such as financial planners, professional associations or even country clubs.
Centers of Influence can also be used to sell long-term care insurance. The basic idea is the same, but the professional organizations you want to work with may differ. In this case, the ideal prospect might be someone in retirement or nearing retirement, so you might try to work with estate planning attorneys, financial planners and senior centers.
Other insurance agents can also be a good fit for your network, as long as their specialty differs from yours. For example, if you sell disability, long-term care and life insurance, you might approach a P&C insurance broker who sells home and auto insurance.
Selling Disability Income Insurance by Creating Value
When you create a Center of Influence, you're building a collaboration that should be mutually beneficial. Everyone involved is trying to succeed in their business while helping their clients.
This means that you need to put some thought into your sales tactics. If you come off as overly aggressive, the other professionals in your Center of Influence might not want to subject their clients to your pushy sales proposals. They might even worry about how their relationship could be damaged through association with you. On the other hand, if you provide great services, education and information, other professionals in your Center of Influence will feel good about recommending you to their clients.
Think about how you would react if the roles were reversed. You wouldn't want to open your clients up to a pushy sales pitch that could possibly drive them away from you, but you would want to work with someone who could help your clients with issues that are outside your expertise.
It all comes down to value. For this strategy to succeed, you need to show that you're offering real value.
Provide useful materials. You can leave a stack of your business cards for people to take, but you should also consider providing more educational materials, such as client handouts and guides. Providing information is a great way to provide value while also showing prospects why coverage is needed.
Offer educational workshops, free assessments or other opportunities to help people. By donating some of your time to help others, no strings attached, you're providing great value. Also, people who are on the fence might attend, and this is a great opportunity for you to get your foot in the door.
Collaborate with others in your Center of Influence to create events on broader topics. This entire strategy involves collaboration, so why not take it a step further? For example, you can work with a real estate agent to create a webinar for first-time home buyers. Other good topics might include key considerations of financial wellness or planning for retirement. You can team up with other professionals and have everyone present a portion of the webinar.
Take Your DI Sales to the Next Level
Centers of Influence are a great way to expand your reach and level up your insurance marketing strategy. For more resources that can help you provide DI marketing with value, explore our disability insurance sales tools.
Please follow and like us: