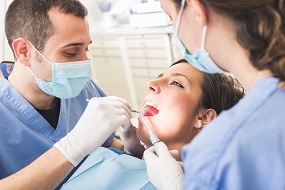 There are more than 100,000 practicing dentists in the U.S and although solo practices are by far the most common, group practices are increasing at the rate of 20 percent annually. The dental industry, expected to grow by 18 percent through 2024, is one of the fastest growing sectors in the country. The combination of the number of people working in the dental industry, the projected growth, and higher salary levels, offers a golden opportunity for a producer who sees the value of accelerating disability insurance sales.
Paycheck protection for the practice
Even the smallest solo dental practice employs three to four people, the receptionist / office manager, a hygienist, and sometimes a dental assistant and a dental technician. That represents a case large enough to earn special pricing or underwriting concessions from the disability carrier. Average annual salaries range from more than $170,000 per year for dentists, and about $73,000 per year for dental hygienists. Dental assistants, technicians, and office managers, earn between $30,000 and $36,000.
Individual disability insurance for dentists
On average a dentist leaves dental school with student loan debt between $150,000 – $300,000. Protecting the investment in education requires that the income earning potential is also protected. Only disability insurance provides that level of protection. In the professional market, like physicians and dentists, only own-occupation disability insurance will do. If the insured is unable to return to the original occupation and level of income, the disability benefit will fill the difference between pre-disability income and post-disability income. Individual disability insurance is to replace the dentist's lost income due to disability. Other forms of disability insurance are designed to protect the viability of the business while the dentist is disabled.
Disability insurance for the business owner
Whether practicing alone or part of a group practice, dentists are business owners with financial obligations. Employees of solo practices are most vulnerable to significant income disruption if the dentist becomes even temporarily incapacitated due to illness or injury. Patients still need care, utilities and rent must be paid, payments for expensive dental equipment and machinery must continue.
There are many forms of disability insurance to cover risks specific to a business owner. Business Loan Disability insurance will make loan payments while the practitioner is unable to perform dentistry. A business owner carries an obligation to ensure that employees continue to receive a paycheck if the owner is unable to work due to a medical condition. Business Overhead Expense disability insurance, essential for any business with employees, will provide the needed capital to continue to operate the business, pay salaries, rent, and more. In some cases, policy benefits may even pay for a substitute dentist so that patients continue to receive care.
Dentists and dental practices represent a rewarding market for disability insurance. Download our tips on how to enter the market. Then talk to your DIS representative for additional sales ideas and disability products suitable for the professional market. When you are ready to present a quote to your client, we will be sure the coverage quoted is appropriate for this market, including features like own-occupation. Use our Disability Insurance for Dentists checklist for guidance.
Discover more resources to help you succeed selling disability insurance for doctors.
Please follow and like us: