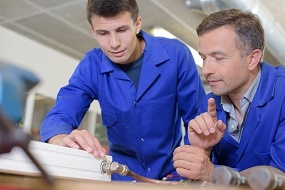 Disability Insurance Awareness Month begins May 1 so we've been concentrating on creating awareness about hidden disability insurance markets. This is the last of three prospecting articles about workforce segments that may be untapped for disability insurance. To find out more about two other groups that may be in need of DI, check out, Disability Insurance for Self-employed Prospects and Private Practice Healthcare Workers: The Hidden Disability Insurance Market.
Expectations for skilled and middle-skilled job growth are accelerating. By 2017, it is estimated that 2.5 million middle-skilled jobs will be added to the workforce. Middle-skilled jobs are those that require some specialized, post-secondary, education but not a four-year degree. Two out of five, more than 11 million, of those jobs pay $50,000 or more initially. Middle-skilled workers earn a higher median wage of $21 per hour than compared to $16 for white collar workers. They often have less student debt. Compare a $30,000 – $40,000 trade school tuition to $100,000 for a four-year degree. With a typical training period of two to three years, a trained worker is usually out in the workforce, earning an appreciable income, years before a college graduate. The delays in marriage and home ownership may not be as prevalent as it is with under-employed college graduates, increasing the need for disability insurance.
Certainly some of this workforce will be employed by large firms offering a gold package of benefits. Even so, there is a declining trend for employer-paid disability insurance across the board. The more attractive opportunity may be with skilled workers, working for smaller firms offering limited employee benefits. Assurant estimates that only 22 percent of blue-collar workers have private long-term disability insurance.
Let's look at some of the jobs in this middle-skilled category, incomes between $50,000 – $80,000:
Plumbers and steamfitters
Senior electricians
Agricultural managers
Senior bricklayers
Electronics technicians
Senior automotive mechanics
Senior machinists
Plastics machine operators
This is certainly not an exhaustive list, but one that draws attention to this workforce and its need for disability insurance. Many are employed by smaller firms, have a lower DI risk and do not have disability insurance.
Identify current clients in these job categories. It's very possible they may have only personal lines insurance. Especially attractive leads may be couples where both are employed in these hidden DI markets of healthcare worker, self-employed worker, and middle-skilled worker Approaching them about their need for disability insurance may lead to opportunities to cross-sell other products.
Check with your DIS representative to learn about carrier preferences for certain occupations. We'll be able to give you advice on occupations with favorable disability risks and which ones may require a bit more underwriting. We'll look at your list of prospects and prioritize opportunities with you. Let's make May 2016 your best DI month ever.
Need some Disability Insurance Awareness Month campaign ideas? Click here.
Please follow and like us: