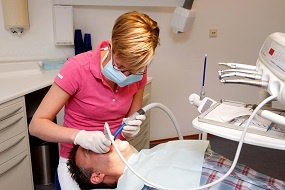 In anticipation of DIAM (Disability Insurance Awareness Month) next month, we're suggesting ways to find the hidden clients and prospects who may need disability insurance. Our last article, Disability Insurance for Self-employed Prospects, outlined the growth of this segment, the unique need for disability insurance and the specialty products designed to protect them. This time, let's look at clients and prospects working as skilled healthcare semi-professionals and their need for disability insurance.
Private practice physicians and dentists are adding skilled healthcare workers to their payrolls. The need to cover the rising overhead of insurance administration, digital record keeping, etc. requires the private practice physician to see more patients. Medical practices have been adding physician assistants and nurse practitioners to the staff. Dentists have long depended on dental hygienists to see patients while they attend to dental procedures. Many now rely on dental assistants to perform simple procedures. For both private medical practices and private dental practices, adding highly-skilled semi-professionals to the team means more patients can be treated and billed.
Consider the profile of a typical disability income buyer:
Age 30 – 55
Household income of $75,000 or more
Children at home
Stable income for two or more years
Semi-professionals employed in private practice often fit this profile. The median income for many skilled healthcare occupations is at least $55,000 and, with experience, often approaches six figures. Other examples of higher earning semi-professionals are respiratory therapists, physical therapists, and nurse anesthetists.
There is another important fact that makes this group ideal prospects for disability income insurance; the typical private practitioner does not offer long-term disability insurance. The 25 – 33 percent risk of suffering an income interrupting disability applies just as much to healthcare workers as to the general population.
When choosing the product to recommend, consider the added protection of "own-occ" disability insurance given the specialized skills of their work. Private practitioners may not offer retirement accounts at all or if a plan is offered, it may be limited and often without an employer matching component. Retirement plan disability insurance may be important to this client.
Why not get a head start on DIAM? Begin by listing your physician and dentist clients who already own disability insurance on themselves. Now you have a list of practices you already have a connection to. The best case scenario is that your client provides an opportunity to talk to employees about the important of disability insurance. Secondly, identify clients who work in these or related healthcare fields. Schedule time next month to talk with them about disability insurance. This could even represent a good multi-life opportunity.
Before you call the client, call your DIS representative. We'll be happy to review the list of prospects with you and, based on the information you have available, recommend products, prepare quotes, and provide educational materials to share with your clients.
Please follow and like us: