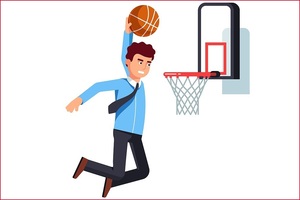 We've moved our clocks forward an hour, the weather is starting to warm, flowers are blooming, and it's clear that spring has arrived. Something else has arrived, too: March Madness.
If your clients are basketball fans, they're aware of this already. They're probably pumped up to watch their favorite teams play. Maybe they're inspired to jump into a pick-up game themselves. If they do this without the proper warm up, they may pay the price when they strain muscles they hadn't used all winter.
Fortunately, you've probably already prepared them for these mishaps with the right paycheck protection. If not, now is a good time to jump into the disability insurance game and start offering this crucial coverage to your clients.
But be careful – you need to warm up too. Selling disability insurance can be painful without a game-winning practice plan. Before you can play in the big leagues, you need to work on your moves.
Ready to dribble-drive the DI lane and score?
Whether you're new to the DI game or you're a DI legend, you need to the right resources to help you on the court.
Use these four fabulous game-changing resources to boost your disability insurance sales success:
March Madness only happens in spring, but the need for paycheck protection continues year-round.
Please follow and like us: