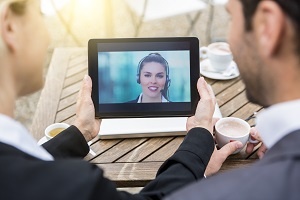 Thanks to the likes of Alexa, Siri, and Uber, we expect immediacy in just about every way, including interactions with financial professionals. Digitally-supported operations are coming our way. Is your practice ready?
The evolution of financial behavior
Consumer behavior is the driver behind digital growth. When it comes to financial decision making, consumers are using both face-to-face and digital resources. This is not a prediction of what might happen but what is already happening. In fact, 41 percent of households already use both methods when coming to a conclusion involving finances. In the last six years, use of tools to check account balances, budgeting, and financial portals has tripled.
The trend to access multiple sources has had a surprising impact on financial professionals. As the use of digital resources has increased, so has the use of professional advisors and insurance professionals. Since 2013, consumer opinion and use of financial advisors has increased seven percent and, for strictly insurance professionals, 39 percent.
That's great news for the profession. It seems that the self-education process often leads to a decision to engage a professional. Practices that focus on solutions that serve the entire family, including working and non-working partners have a definite advantage. LIMRA studies repeatedly confirm that although consumers widely search for information before making a financial decision, the preference, among all ages groups, is to work with a professional advisor.
Make technology work for you
Ready to put digital technology to work in your practice? Here are just a few suggestions to help you realize the benefits of a digital world.
Replace emails to clients with text messages. Studies show texts have higher response rates.
Use face-to-face technology like Skype, Facetime, and Alexa Echo Show, expand your service radius and scope. Clients and valuable employees who relocate can now be served pseudo-in-person. The technology can actually lead to more frequent conversations with clients. Travel time is eliminated for both busy clients and advisors. Including a preferred specialist on a client video call can smooth introductions and increase cross-selling opportunities.
Commit to a niche market or specialization. Specializing in disability insurance for pilots or professional athletes can be a more lucrative niche market when you are not confined by geographic boundaries. Of course, as your practice expands to new locales, additional licensing will be required.
Make websites content rich and accessible via mobile devices. Offer downloadable guides and templates to help client access their need for supplemental disability insurance. Younger consumers expect sites to include podcasts, videos, and social media links.
DIS is your resource for traditional and specialized disability insurance products. Just about any niche you hope to develop can be supported by one of our premier carriers. Let's grow your disability practice together in coming year. Remember, that if you don't have the time or expertise to confidently sell DI, our co-selling program is a smart, easy option.
Please follow and like us: