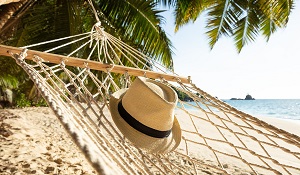 Let's try some word association. If you hear the word summer, what comes to mind? Vacation, possibly. Beaches, maybe. Probably not work or sales goals. Summer is associated with long, lazy days and weekend getaways, but the end of the year will be here before you know it. If you want to make this year a year you can be proud of, it's time to get off your hammock and get to work.
The time to act is now.
Okay, to be fair, you're probably not spending the entire summer sipping tropical cocktails by the pool. But there's a good chance you could be working harder, and if you're already working as hard as possible, maybe you could be working smarter. And you're not alone. According to the Salespeople Perceptions and Top Performance Study 2018, only about one in four salespeople exceeded their sales quota in the previous year. You could be one of the elite 25%!
The year is more than halfway over. If you're not more than halfway to reaching your sales goals, you're setting yourself up for disappointment. Don't count on catching up during the end of the year, when people are distracted by the holidays – and when their budgets are stretched to limit. Get back on track now.
Improve your online presence. According to the 2018 Insurance Barometer Study from Life Happens and LIMRA, more than half of millennials say they would research online before buying a policy from an insurance professional, while 29 percent of consumers say they'd research and buy online. If you don't have a great website and active social media accounts, now's the time to start.
Crunch the numbers. If you've already set a goal for the year, break out the calculator and figure out exactly how many policies you need to sell to reach that goal. Then compare this to how much time you have remaining in the year.
Rethink your plan. Goals are nice, but you won't reach them without a solid plan. If your current plan isn't working, don't just continue on blindly. Think about how you're spending your time and resources now and how you're falling short. What can you change? Are you wasting time on strategies that don't yield results? Can you explore new methods for lead generation and referrals? Do you need additional resources? Consider these PRO MOVES to close more sales.
Establish mini-goals. Progress happens one step at a time. Create a calendar for the rest of the year that includes both the specific actions you'll take and the milestones you want to hit. And don't forget to celebrate each step of the way. You're working hard, and you deserve a reward. Maybe a day at the beach?
Reassess as you go. Time has a habit of slipping away. Make sure you're assessing your progress regularly. If you're not hitting your goals, don't just hope that things will change in the future. Go back to square one. Determine what went wrong and how to fix it, and then move forward with a new plan.
Finally, don't forget to reap the meaty rewards of our Sizzling Summer Sales Contest! Make today the day you get off the hammock and move your goals forward. DIS is here to help every step of the way. Contact our sales team for coaching and sales assistance.
Please follow and like us: