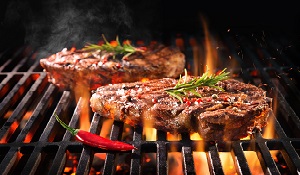 Do you like summer grilling? Then you'll love this. This summer, our new sales incentive is giving you the perfect way to beef-up your summer earnings with the Omaha Steaks Ultimate Custom Combo package. All brokers are invited to participate, even if you aren't currently contracted with DIS.
Here's how it works.
Between July 1 and August 31, you can receive the Omaha Steaks Ultimate Custom Combo package just by submitting a qualifying application for a DI policy.

The Omaha Steaks Ultimate Custom Combo package includes 2 (9 oz.) Ribeyes, 2 (5 oz.) Bacon-Wrapped Filet Mignons, 8 (4 oz.) Omaha Steaks Burgers, 8 (3 oz.) Gourmet Jumbo Franks, 4 (3 oz.) BBQ Rubbed Chicken Breasts, 8 (2 oz.) Ground Beef Sliders, 2 (4 oz.) Boneless Pork Chops and 1 (12 oz. pkg.) All-Beef Meatballs.
Is your mouth watering yet? Thought so. The incentive is limited to one eligible steak package per broker, and DIS reserves the right modify or discontinue the contest.
Here's how to succeed.
To get a qualifying application – one with a premium of $3,000 or more – you'll want to work with some high-premium clients. Here are some professions to target:
Individuals in this profession are prime candidates for disability insurance, and for good reason. According to the BLS, physicians and surgeons earned a median annual salary of $208,000 in 2018. They've worked hard to earn their salary, and they need to protect it.
Doctors aren't the only health care providers with a big income that needs providing. According to the BLS, dentists earned a median annual salary of $156,240 in 2018.
There's a lot of variation here since executives can work at small companies or very large ones. In general, however, top executives are well compensated. According to the BLS, top executives earned a median salary of $104,980 in 2018.
When looking for prospects in these fields, keep these tips in mind.
Get the right tools. The DI for Doctors Sales Kit and the DI for Dentists checklist have everything you need to get started with these professions.
Use the right strategies to appeal to your prospects. For example, many executives will already have group disability insurance. However, these policies can leave big coverage gaps for high earners. Get this resource on handling reverse discrimination in group benefits with the Executive Benefit Equalizer Strategy.
Ask for referrals. If you've already helped clients get the paycheck protection they need, asking for referrals can be a great way to grow your business. Doctors will likely know other doctors, and so on, but keep in mind that even middle-income earners may have friends, relatives and associates in higher wage brackets. Host client events, make sure your clients have your contact information, keep in touch, and don't be shy about asking.
Cross sell. If you've already sold a high-earning client another type of policy (such as life insurance), don't hesitate to recommend disability insurance. Doing so isn't pushy. In fact, not doing so could be considered irresponsible, since it means you're letting your client go without important coverage. By offering disability insurance, you're giving them the knowledge and protection they need while giving yourself a good commission. It's a win-win.
Hungry for success? Learn more about the Sizzling Summer DI Sales Contest.
Please follow and like us: