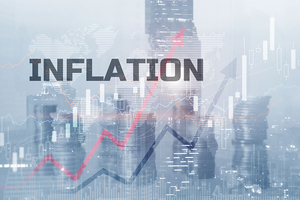 You've probably noticed that inflation is high right now. Prices for nearly everything are soaring, and wages are rising, too, but there's at least one exception to this trend. Disability insurance prices haven't increased. Here's why this is resulting an inflation-driven disability insurance discount.
The Biggest Price Increases in Decades
If your clients are under 40, they've never seen inflation like this before. The U.S. Bureau of Labor Statistics says that inflation (based on the Consumer Price Index for All Urban Consumers, or CPI-U) reached 8.5% in the 12-month period ending in March 2022. In other words, things are 8.5% more expensive than they were a year ago.
Inflation rates this high are not normal. In fact, this is the biggest price increase since 1981.
Some prices have increased even more. For example, food costs have increased 8.8%, and if you're trying to save money by eating at home, you'll still be spending more because food at home costs have increased 10%.
Some of the biggest price hikes have been in energy. Gasoline costs have increased by a whopping 48%, making everyday commutes and summer road trips significantly more expensive.
Wages Are Rising, Too
Costs have been increasing, and for employers, that includes the cost of labor. Workers have been demanding higher wages to help them cope with inflation, and the recent labor shortages and high quit rates have put pressure on employers to give workers what they want.
As a result, more employers are giving out raises than ever before. An April survey from the National Association for Business Economics found that 70% of respondents said wages rose in the first quarter of 2022. This is up from 60% in the January survey, and it represents the highest rate ever in the survey's four-decade history.
Steady Disability Insurance Rates Look Like a Discount
Although most things have gotten more expensive, disability insurance premiums have remained stable. For many people struggling with inflation, the fact that disability insurance premiums haven't risen should come as a relief. When you really think about it, you can even argue that it's like disability insurance premiums are being offered at a discount.
Here's why. Most prices have gone up, and wages have also gone up, so disability insurance premiums now represent a smaller portion of a person's total budget. In other words, disability insurance costs have actually decreased relative to everything else. That sounds a lot like a discount.
Overcoming Price Objection
Price objection is a common reason for payment protection rejections, so brokers should be pointing out this inflation-driven disability insurance discount.
Prospects who have been on the fence or even turned down coverage because of the price tag might be willing to reconsider in light of current economic conditions. This is a good opportunity to reach out again and see if you can close the sale.
An Essential Purchase
Wages have increased, but often not enough to keep up with inflation. As a result, many people are having to adjust their budgets to deal with higher prices. According to PYMNTS, 61% of U.S. adults stuck mostly to essential purchases in March.
For many workers, pinching pennies means eliminating unnecessary costs like multiple streaming services – a CNBC survey found that 35% of Americans have canceled a monthly subscription in the last six months because of inflation.
However, pinching pennies should not mean going without disability insurance. Although your clients might be trying to cut costs now, forgoing disability insurance could lead to more severe financial problems down the line.
Ask your prospects, if they're worried about keeping their heads above water now, how much worse would the situation be if an illness or injury kept them from earning a paycheck? For anyone who depends on a paycheck, paycheck protection makes sense.
This is one expense that should not be cut. Even if your clients can't afford a disability insurance policy with all the bells and whistles, you can still deliver quote options that meet their needs and budget.
Seize This Opportunity
Your clients are probably very aware of the current price increases, and there's a good chance that they've been thinking about their budgets more than usual. This is a good time to bring up how a disability can devastate their budgets and how disability insurance can help. It's also a good time to point out that the stable disability insurance premiums make it seem like policyholders are getting a disability insurance discount.
If you need help securing paycheck protection for your clients, contact Disability Insurance Services.
Please follow and like us: