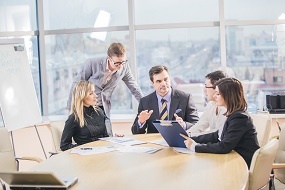 At least 50 percent of business owners have never had an income protection conversation with their advisors. Most commercial lines agents don't want to wade into unknown waters. Health insurance brokers are consumed with the ACA, and financial professionals tend to focus on other areas. The result is the client is exposed to business and personal risks that can be financially devastating despite products developed for this market.
Ready to buck the trend, and get your business owner clients into safer territory? Here are three reasons you should educate them about income protection.
Reason #1: A solid business continuity plan includes disability insurance.
Small businesses are especially impacted when a principal or key employee becomes disabled. Companies may have plans in place for the premature death of an owner or a key person, using life insurance to fund a buy-sell or key-person agreement. Even though the likelihood of suffering a disability is higher than a premature death, many of these agreements fail to fund the possibility with a disability income policy. Business Overhead Expense (BOE) products are essential to business continuity for small firms. A BOE policy provides funds to cover important business expenses, like rent, utilities, and employee salaries, while the owner is unable to work. When the owner is the primary income generator, a BOE policy is a necessity.
Reason #2: The business owner needs disability insurance.
Imagine the business owner client battling a cancer diagnosis or recuperating from a physical injury with a long recovery period. Without income from the business, personal expenses may be unmet. The business owner faces two crushing financial concerns, keeping the business viable and protecting personal assets while income is interrupted. Developing a risk mitigation plan that includes BOE coverage and personal disability insurance eases the financial stress.
Reason #3: Employees need disability income protection.
We are beginning to see an uptick in employee-sponsored disability insurance benefits, but that trend has not trickled down to small business employers. The 73 percent of workers without disability income insurance of any kind are heavily represented in the small business market. Small business employers may be less able to contribute to a group disability program. A voluntary program offered to all employees addresses the need for protection without adding to employer benefit expenses. Even groups with as few as three enrolled lives may benefit from a guaranteed issue offer.
Three needs, three products.
A frank conversation with your business owner clients about their risk exposure can lead to multiple disability sales, protecting the business, the business owner, and employees. DIS has products and carriers that specialize in each area. Your DIS representative will work with you prepare for a conversation with each of your business owner clients. Help your clients close their income protection gaps by using a combination of disability income protection products. Call us today or download our Business Owners Income Protection Checklist to learn more.
Please follow and like us: