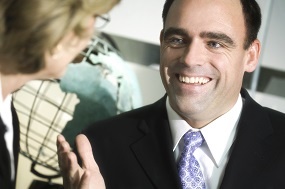 Over the past few months we've posted several articles about attracting new disability insurance clients especially Millennials. What makes a client decide to do business with you? Convincing a potential client to work with you is an expression of your value proposition. Industry research indicates that prospects make a decision about an advisor within a matter of seconds. A strong value proposition can help you make the most of the few moments you have to convince a potential client to work with you. Here are three easy steps to create or just dust off a compelling value proposition.
1. Know what your clients value.
A good value proposition will attract clients and even more importantly, give them a reason to take action. In this case, the desired action is to meet with you. Consumers form business relationships in order to solve a problem. Especially when expanding your target market, be clear about what problem your potential client is trying to solve. In the case of Millennials, research tells us they are concerned about saving for retirement. Millennials also are aware of how much they need to learn about financial matters. In fact, according to the LIMRA study, "Every Excuse in the Book," lack of understanding about insurance products is a significant contributor to indecision for many consumers.
When you consider your value proposition, are you addressing these common client concerns? Approaching clients through education and advice may be important to attracting new clients. A holistic view of each client's financial risk resonates more strongly than focusing on product or price. Finally, ask your current clients what they value most about working with you. Does it align with what you thought they found important?
2. Evaluate your ability to deliver.
The words you use to attract clients are important, but words take a backseat to the actual disability insurance experience. Compare your description of what you hope to offer clients with a reality check of their actual experience. Chances are there are some gaps. Identify the areas that need attention and plan to close the gaps.
Closing the gaps starts with a review of your value proposition, and making sure every member of your team understands the experience you want each client to have. It may require some training as well as frequent reminders.
3. Walk your talk.
The best way to ensure you consistently deliver on your value proposition is to monitor your results. Begin each new client relationship with a commitment to what you promise. Then periodically ask clients to provide feedback on their experience with you and your team.
Ask clients for suggestions. Ask about ways they prefer to hear from you and how often. Since education is an effective way to connect with clients, ask how they like to access information and incorporate those preferences into your strategies.
Convincing clients to establish a lasting financial business relationship is not easy. An effective value proposition can make it easier. When you are ready to discuss your clients' disability insurance needs contact DIS for customized disability insurance quotes, sales tools, access to top carriers and support through the application and underwriting process.
Please follow and like us: