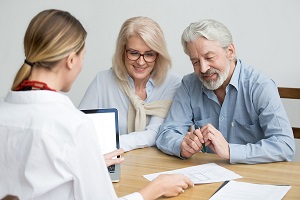 If your clients had a 70 percent chance of experiencing an event that could wipe out their retirement savings, would you talk to them about coverage? If the answer is "YES," you need to talk to your aging clients about long-term care insurance.
Long-term care refers to help with daily activities, such as eating and bathing. It is not medical in nature, and because of this it's typically excluded from health care plans, including Medicare. According to the U.S. Department of Health and Human Services, 70 percent of today's 65-year-olds will need long-term care, and the average period of care is three years. At an average of $6,844 a month, three years in a semi-private room in a nursing home would cost $246,384. Unfortunately, many people have not planned for this expense, and paying for it can drain a person's retirement savings. Long-term care insurance can cover the costs of care.
According to the American Association for Long-Term Care Insurance, only 4.5 percent of new claims in 2018 started at age 70 or under, and 52.2 percent of claims occurred between the ages of 81 and 90. Waiting until this age to buy a policy might not be a good idea, however. The premiums can be expensive, and the sooner your clients purchase a policy, the less they'll pay.
If your clients are age 50 or older – or if they're worried about their aging parents – it's time to talk to them about long-term care.
Opportunity One: Your clients are discussing their adult children.
In many states, adult children can be held legally and financially responsible for their parents' care. These filial responsibility laws mean that your clients' children could be sued for their long-term care expenses.
Make this point: Did you know that your adult children could be forced to pay for your care? Getting long-term care insurance is a smart way to make sure you get the care you need without putting your children at risk for a lawsuit.
If your clients are talking about their elderly parents, you can make a similar point – explain that they could be on the hook for their parents' expenses.
Opportunity Two: Your clients are discussing retirement.
People spend a lot of time planning for their retirement, but they often fail to consider the cost of long-term care. If one spouse requires care, the other can be left without retirement savings.
Make this point: It looks like your retirement plan may be leaving out one major expense. Most retirees will need long-term care at some point, and it can cost hundreds of thousands of dollars. Long-term care insurance cover this cost.
Opportunity Three: Your clients are discussing other insurance policies.
Many people know the value of life, health and disability insurance, but not everyone understands the importance of long-term care insurance.
Make this point: There's another policy you might want to consider. Long-term care expenses aren't typically covered by other plans, leaving you with hundreds of thousands of dollars to pay out of pocket. Long-term care insurance covers these costs.
Opportunity Four: Anytime.
Don't just wait for the perfect opportunity. Get the conversation started anytime with an eye-opening client handout. Download 10 Facts to Know About Long-Term Care.
Please follow and like us: