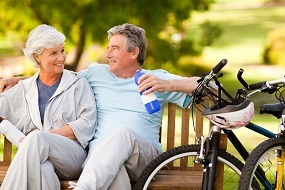 Identifying clients interested in long-term care insurance is a challenge often cited by advisors. With an eye on helping financial professionals clear this hurdle, Mutual of Omaha, commissioned Hearts and Minds, a two-phase study of buyers and non-buyers. The result is an in-depth look at the motivators and behaviors of the long-term care insurance consumer.
Your most likely buyer
An article posted earlier this year, Your Long-Term Care Insurance Client, included an infographic of the ideal long-term care insurance buyer. The Hearts and Minds study adds to that profile with insights about financial matters, experience with long-term care needs, and the pre-purchase self-education process. Use the buyer portrait within your current practice and to develop new clients.
Since women are the majority of LTCi buyers, keep in mind that many women have a different buying journey than the typical male client. According to an ING (now Voya Financial) Aetna Financial Services study, the relationship with the advisor is an important factor for women when making buying decisions. Women are also more likely to research and become educated about the product as part of the buying process. In this market, you'll be rewarded when you encourage independent investigation, provide educational materials, and plan for a longer sales cycle.
Why and when a consumer buys
As helpful as a typical buyer profile can be, it can also be limiting. Round out the profile by looking for clients who may be facing the life events that commonly lead to a long-term care insurance purchase. As expected, a serious look at long-term care insurance often begins with retirement or retirement planning. In fact, highly successful financial professionals include long-term care planning as part of the overall retirement planning process.
The most common reason given for purchasing long-term care insurance is to protect assets, followed by a need for financial security. LIMRA studies tell us more than half of women are very concerned about outliving their assets. Asset protection planning and LTCi are natural companions, each addressing the major financial concerns of women.
The decision-making process
The second part of the Hearts and Minds study focused on what was on the minds of LTCi buyers and potential buyers. Both groups shared similar dreams of life in retirement and common concerns about longevity, outliving retirement savings, and diminishing societal safety nets for the aged. Openly discussing client fears can lead to productive conversations about ways, such as long-term care insurance, to reduce those fears.
The study revealed that although most people acknowledge the need to plan for long-term care needs, many have very limited understanding of the financial and emotional toll of an actual long-term care event. Study participants recommended the advisor shift to a positive conversation about how differently the same event looks when LTCi is in place.
Kick-off strong sales in 2016
Are you planning to grow your long-term care practice in 2016? You'll find the study to be a valuable tool to plan your marketing strategy. Think of DIS as your LTCi strategic partner. Call us today for a quote. Also, download the Ultimate LTCI Case Design Resource, it can be a valuable tool to help educate a client who wants to learn more.
Please follow and like us: