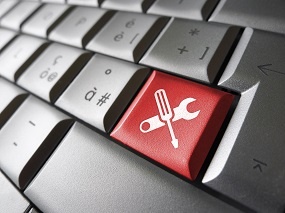 Make 2016 the year to make disability insurance a larger part of your practice. If you are wondering how to get started or just looking for a refresher, look no further. Everything you need to get up-to-speed is just a click away. Download some of our most popular DI tools for insurance agents in all lines of business.
Seeing a product in action is a great way to kick-off. Our real life story, In the Blink of an Eye, Disability Happens presents an agent-to-agent view of the need for disability insurance via the firsthand account of Ty Kailey, a disability insurance agent who benefited from his individual disability income policy.
Once you've read Ty's story and have a good understanding of why individual disability income protection is so important, follow these four steps to get yourself sales-ready:
Step 1: Get up to speed on product basics.
Like any specialized insurance product, individual disability income insurance has a unique lexicon of terms. The DIS Crash Course makes learning the language easy. Think of it as a getting-started guide, including the important terms to know, nuances in policy language, case design considerations, and suggestions for sales success.
Step 2: Select niche target audiences.
There are as many DI sales strategies as there are clients in your practice. Clients who are physicians, surgeons, and dentists may have different coverage needs than a white-collar office worker. Business owners may need an individual DI policy for income replacement and a BOE policy to keep the business going if unable to work due to an injury or illness. DIS makes it easy for insurance agents to get equipped for success with these client handouts:
Disability Insurance for Dentists Checklist
Step 3: Put your prospecting plan into action.
Now that you've identified clients with the greatest need for individual disability income, it's time to begin your marketing process. We make it easy to automate your marketing plan using our BCAM (broker computer assisted marketing). It's a proven sales generator, allows you white-labeled email campaigns to your clients. There are several marketing templates to choose from. You are notified as soon as a prospect requests a quote, and within 24 hours, you will have a quote in hand to present to your client. Broker computer assisted marketing is a powerful tool and it's offered free of charge, to all insurance agents. Download the guide to learn more.
Step 4: Hone your sales script or sales delegation plan.
When it comes to meeting with the client, DIS has you covered there as well. In fact, one of our most downloaded tools is the Wealth Preservation Plan Sales Script. Packed with useful, real life sales scenarios, you'll find suggestions for overcoming objections, a pre-approach sales letter, and a client-friendly Income Gap Diagram that crystalizes the need for individual disability income.
The DIS Sales Concierge service offers the option to hand-off the actual sale to a DIS income protection expert under a split commission arrangement. We make the sale, you collect a commission. For busy insurance agents (especially those who specialize in other lines), what could be better?
Ready to get started? Contact DIS today for an individual disability income quote and more sales ideas for insurance agents. You'll be glad you did.
Please follow and like us: