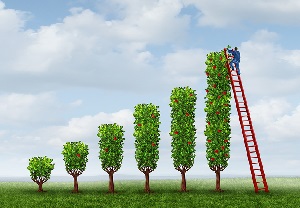 A CareerBuilder survey found that 78 percent of U.S. workers are living paycheck to paycheck. If you're like most Americans, you don't have much in the way of savings, but you might have a significant amount of debt. To get ahead, you need to earn more. It might sound like a dream, but a career in disability insurance could you turn that dream into a reality.
Earn Great Commissions
The typical first-year commission for a disability insurance sale is 50 percent. That already sounds pretty good, but it gets better. In addition to the first-year commission, you'll typically earn a 5 percent residual commission for the second through tenth year. Add this up – 50 percent + 5 percent + 5 percent + 5 percent + 5 percent + 5 percent + 5 percent + 5 percent + 5 percent + 5 percent – and you get 95 percent total. That's one big commission!
The odds are good that you'll see these residual commissions, too. As long as the insured keeps the policy in force, you'll keep earning. According to a study from LIMRA, the lapse rate for individual disability insurance averages only 6.5 percent. For comparison, the lapse rate for term life insurance averages 10.2 percent on a policy basis.
You might see even more. Many disability insurance policies come with a future purchase option. As your clients' income increases over the years, you can remind them of this option and see if they want to increase their coverage. You could get up with a commission that's more than the original policy – even 185 percent.
See Your Income Increase
Residual income increases the the amount you earn every year.
The first year you sell, you'll only earn your first-year commissions. The next year, you earn first-year commissions on your new business, but you also earn up to 5 percent in residual commissions, giving you a 5 percent raise. If your sales are steady for a third year, you'll earn new first-year commissions along with up to 5 percent commissions on both the first and second years' sales. This means you'll be earning 10 percent more than you did the first year.
And so on. Even if your sales don't improve, your income can rise. In reality, your sales can also increase as you work on your sales tactics and earn more referrals.
But even if you stop working, you can keep earning. Normally, when people retire, that's it. The paychecks stop. If you're earning a residual income, your paychecks can continue for years after you stop making sales.
Enjoy Less Competition
With such a great earning potential, you'd expect a lot of competition from other insurance agents. However, the truth is that many agents specialize in common options like life insurance and steer away from more sophisticated options like disability insurance.
Their loss is your gain. Although getting started in disability insurance may seem daunting – explaining why many insurance agents avoid it – success is within reach with a partner like DIS.
If you're just starting your career or looking for a more rewarding alternative, download our DI Broker Opportunity Kit and contact the sales team at DIS. We can walk you through every step of the process.
Please follow and like us: