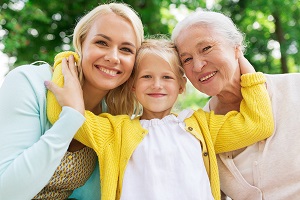 It's no secret that parents occasionally have to miss work to take care of a sick child. But what if the sickness doesn't end in a day or two? What if a worker needs to take off a substantial amount of time to care for an ailing family member? It's a common problem that can lead to financial disaster – but a disability insurance policy with a family care benefit can help.
Unpaid Caregivers and the Sandwich Generation
You've heard of Boomer and Millennials, but have you heard of the Sandwich Generation? Unlike other generations, it doesn't refer to people born between set years. Instead, the Sandwich Generation consists of people with both aging parents and young children in need of care. This double duty can really put the squeeze on people.
According to Family Caregiver Alliance, approximately 43.5 million adults in the United States reported providing unpaid care during the previous year. The average unpaid caregiver is 49 years old, and 85 percent are providing care to a relative. Nearly half are providing care to a parent or parent-in-law.
All this caregiving takes time and energy. Because most caregivers are in their working years, this can impact their career. According to the report, 60 percent of caregivers have had to make workplace changes, like cutting back on hours or going on leave.
Of course, this can lead to both emotional stress and financial stress. Many caregivers may try to juggle their family and work responsibilities because they feel they have no other choice. Others may be forced to take time off from work even though they can't afford it. For millions of Americans, it's a struggle.
The Gap Left by FMLA
The Family and Medical Leave Act (FMLA) gives eligible employees the right to take time off to care for an ailing family member. This is an important protection, since it means that workers don't have to worry about losing their jobs if they need to spend time away from work in order to help a sick family member.
But there's a catch. FMLA guarantees time off, but that time isn't paid. Although some workers might have paid sick time they can use, this can run out quickly, and many workers have to give up their paycheck. Obviously, this is not always something that can be done without extreme financial hardship.
How the Family Care Benefit Works
The typical disability insurance policy provides paycheck protection if the worker suffers a qualifying injury or illness. It does not provide paycheck protection for time taken off to care for a family member suffering from an injury or illness.
However, some policies do offer this protection. The Family Care Benefit provides a payout when a family member, such as a spouse, child or parent, experiences a qualifying injury or illness, and the insured has to take time off work to provide care.
No one wants their family members to get sick, but if something happens, they absolutely want the financial freedom to be there. If you have clients in the Sandwich Generation, look into helping them secure this important protection. Contact the DIS sales team if you'd like to learn more.
Please follow and like us: