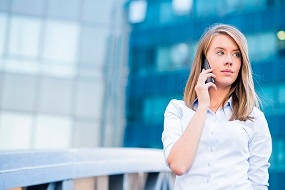 Have you noticed? America's workforce is changing. It's getting younger, more mobile and more skilled. Are your paycheck protection sales strategies keeping pace? If you think that disability insurance is something that you should only offer to your clients who are doctors, lawyers and dentists, it's time to modernize your thinking.
Let's look at some revealing facts:
The number of highly skilled, knowledge-based jobs doubled between 1983 and 2015. (Source: U.S. Census Bureau)
86 percent of today's jobs are service-based rather than product-based. (Source: U.S. Census Bureau as reported by Business Insider)
37 percent of people's jobs involved telecommuting in 2015. (Source: Gallup)
Self-employed Americans accounted for 30 percent of the national workforce in 2014. (Source: Pew Research Center.)
Millennials have now surpassed GenX to make up the largest share of the workforce. (Source: org)
Now, let's compare disability insurance numbers from LIMRA:
Only 26 percent of Americans own some form of disability insurance.
60 percent of GenX and millennial consumers said an income loss due to illness or injury would have a significant impact on their households.
30 percent of full time employees are not confident about their ability to pay their bills if they or another family member was out of work for three months or more.
See the gap? There's a major opportunity here.
Here's today's reality: Paycheck protection is an essential component of financial planning for anyone who earns $50,000 or more. We're talking about skilled trade owners (plumbers, electricians, contractors); young professionals; entrepreneurs and freelancers; middle managers; technology professionals; accountants; and many others. The majority of your existing insurance and financial planning clients may fit into this profile.
Take a close look at your existing clients. Identify anyone in a somewhat responsible role who earns $50,000 or more. Make sure to include women and entrepreneurs – two often overlooked groups who need income protection. This is the audience who needs to hear about individual disability insurance.
Ready to launch your cross-sell campaign? Before you start, take a look at five key reasons your clients need to be educated about paycheck protection:
Portability: Today, workers change jobs more frequently than in the past. And, a growing percentage are self-employed. An individual disability insurance policy (not paid for by the employer) travels with workers, helping them avoid dangerous coverage gaps.
Responsibility: Student debt has hit an all-time high – just ask any millennial you know. On the other end of the spectrum, many GenX and boomer workers now have at least some level of responsibility for their aging parents. Those in the sandwich generation (caring for both kids and aging parents), tend to have fragile finances. Three generations of support are riding on their paychecks.
Self-sufficiency: Millennials stay single longer and roughly 50 percent of Americans are divorced. Single and divorced people don't have a spouse's support to fall back on if they become disabled.
Retire-ability: A large percentage of boomers are nearing retirement age. An income interruption due to a disability can severely detour retirement readiness and deplete retirement savings. For this reason boomers are keenly interested in income protection.
Sustainability: For business owners, having income protection products such as key person insurance, business overhead insurance and buy-sell insurance can be the deciding factor in the organization's long-term viability.
When they ask you for a disability insurance quote, don't make this mistake.
One of the biggest mistakes I see is providing income protection quotes on a one-size-fits-all basis. A lot of agents who have provided income protection for doctors in the past, default to "doctor-level" quotes for all their middle market clients. Then they wonder why they run into price objections.
The truth is most workers don't need an Own-Occupation definition. Sure own-occ is the best, but if it increases the cost of the policy by 30 percent, and your prospect does not buy as a result of that added cost, you haven't helped anyone. It's far better to provide some protection than none at all. Find out what your client can afford and then ask your insurance distributor for suggestions to tailor a policy for that budget.
In today's world, most people desperately need paycheck protection. Don't let price become an excuse for not giving it to them. To learn more, download our Sales Strategy Quick Tip #5 – Avoid the Own-Occ Oversell.
This article was first published in the March 2016 issue of Health Insurance Underwriter magazine.
Please follow and like us: