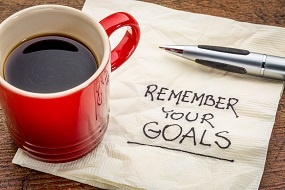 As the economy improves and more people return to work, the disability income market also improves. Just last month, StanCorp Financial reported first quarter increases in both group and individual disability premiums. Does your practice reflect a growth in disability income insurance sales similar to the industry sales growth? With a little more than half the year still ahead, this might be a good to time to revisit your 2015 sales plan for disability insurance. Follow these steps to review and refresh your plan for making this a great year for DI.
Step 1: Review the goals.
What did you plan to accomplish this year? You may have targeted a premium or commission amount or a number of sold policies. Compare the actual result to the goal. At this point in the year, you should be about 50 percent toward your goal. If you are on track, fabulous! If not, take a moment to review the goal. Is it reasonable? Can it still be achieved?
This may be the hardest part of the review. Hold yourself accountable for the original commitment, even if it was a personal one. However, if the goal is unattainable in the time left, then adjust it. An unattainable goal can be disheartening. A good review process focuses on successfully reaching the target.
Step 2: Revise the plan.
You've identified the target. How will you reach it? Success requires a plan. It's your map for getting from point A to point B. As with most journeys, there are usually many ways to get there. Make your plan work for you, your clients and your administrative team. Objectively evaluate the original plan. If you followed it and are behind in your goal, then tweak it. Eliminate or replace what didn't work as you expected. Outline the steps necessary to make the sale and commit to following them. Identify Step 1: Review the goals.your anticipated progress for the next 30, 60 and 90 days. Review an earlier article How to Foolproof our DI Production Plan in Four Easy Steps, for suggestions.
Step 3: Schedule an appointment – with yourself.
Send yourself three meeting invitations one for 30 days from now, 60 days, and 90 days. To reach your objective, you must keep your eye on it. Hold yourself, and your support team, accountable for completing the steps you outlined. Be ready to review how many clients you contacted, met with, and followed-up with. Studies of disability insurance buyers indicate that at least two client meetings often preceded the sale.
Step 4: Use your success to set sales targets for 2016.
Momentum is growing in the disability insurance markets. DIS will help you capitalize on that momentum by guiding the product selection, providing quotes, and helping you prepare for a meeting with your clients. You've got more than six month to make this a great year for disability sales. And you've got DIS to help you reach you goal. Call us today. And if you haven't already done so, get our free disability insurance quote engine installed in your email signature and on your website.
Please follow and like us: