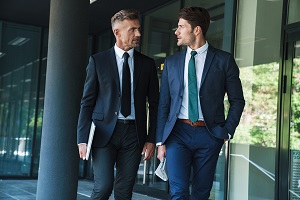 Business owners know how much hard work goes into keeping a business afloat. They work hard every day, but they can't do everything themselves. As their business grows, they need to take on more employees, and they depend on them to do their jobs. Life, however, can have other plans. An injury or illness could prevent an employee from working. Key person disability insurance provides important coverage for this risk.
While regular disability insurance provides a payout that helps the worker who is no longer able to earn a paycheck, key person disability insurance provides a payout to the business to help with the financial impact of losing a valuable employee. If your clients run a business, key person disability insurance could be a lifesaver in these six scenarios.
Their business depends on one or more employees who would be hard to replace. Some employees can be replaced fairly quickly and easily. Others, however, are much more difficult to replace. They have specialized skills and knowledge that the business depends on. Recruiting and training a new worker would take considerable time and resources. According to SHRM's Human Capital Benchmarking Report, the average cost-per-hire is $4,129. Key person insurance can provide a payout to help with this process.
Their company would lose revenue without a key employee. Although hiring new employees can cost a company a lot of money, not having them can cost even more. If key employees bring in revenue, that revenue could dry up without the employee. The payout from a key person insurance policy can help a business deal with the loss of revenue.
Their company has significant overhead expenses. Regardless of how much a business is bringing in – or not bringing in – it still has to pay for utilities, rent, and countless other expenses. If something goes wrong, a business could find itself facing bankruptcy. Key person insurance provides protection against a common cause of financial loss.
A key employee needs to take time off to recover from an accident or injury. After a severe injury, an employee may not be able to work for months. This is true whether or not the accident or injury is job-related. Depending on the policy, key person insurance can provide coverage for up to 12 to 24 months.
A key employee needs to take time off to deal with an illness. According to the CDC, 9.4 percent of U.S. adults have been diagnosed with cancer. If an employee is diagnosed with cancer or another serious illness, they may need to take time off to recover. During this time, the employee should not have to worry about how their absence is hurting the business. Key person insurance can help.
They need to replace a key employee due to disability. Although many employees who deal with disability will be able to return to work after taking time off to recover, some employees will need to leave permanently. Key person disability insurance will provide a payout that will help you keep the business afloat until a suitable replacement can be found.
Disability Insurance Services offers several business owner disability insurance products – from key person and business overhead expense insurance to disability buy-sell and bank loan DI options. Contact us to learn more about marketing DI to business owners. Also, download our Business Owners Protection Checklist now.
Please follow and like us: