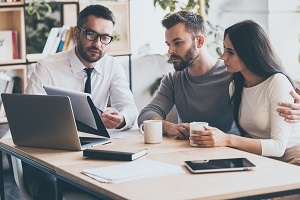 This is the time of year when your employed clients are choosing benefits during their company's open enrollment. Health insurance is always the highest priority. Understanding health insurance plans can be quite complex, yet most of us seem to navigate the system well.
However, when your clients consider other insurance products available in their benefit package they may not be as skilled or knowledgeable. This presents an opportunity for financial or insurance advisors to counsel clients about which benefits to choose.
Disability benefits, short-term and long-term, are second only to health insurance when it comes to protecting against financial calamity. As an advisor you have wisdom and specialized knowledge that clients will find valuable. For example, you know that:
Study after study reports that most Americans do not have sufficient savings to meet essential financial obligations without a steady paycheck.
More than one-quarter would be unable to cover expenses immediately, and more than two-thirds would not be able to manage beyond a few months.
Over the course of a career, young people just entering the workforce have a 25% chance of being disabled for more than 90 days by an injury or illness.
6 out of 10 employees don't sign up for disability benefits because they believe they don't need them.
Even though actions don't support beliefs, more than 64% of people surveyed believe disability insurance is important coverage and that most working people should have it.
There's a definite disconnect. As a trusted advisor your expertise can help clients focus on making benefit decisions that strengthen financial stability.
What's in it for you if you're not the agent selling the benefits they're choosing?
Advising clients on employee benefits easily segues to a conversation about individual disability insurance; even more so for the client who does not have access to employer-sponsored disability insurance. That scenario also reveals an opportunity to talk to that employer about offering a guaranteed standard issue multi-life disability insurance product.
While clients are considering various benefit choices, consider implementing an email marketing campaign focusing on the importance of disability coverage. Also, there are several free downloadable marketing materials that help tell the paycheck protection story that can easily be attached an email. Here are just a few:
Even if you don't make a direct sale during open enrollment, you will have positioned yourself as a valuable partner – someone clients can rely on for future financial assistance.
Please follow and like us: