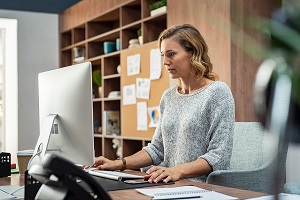 Email marketing provides an easy and inexpensive way for you to reach your disability insurance prospects and customers. It can deliver a fantastic ROI – but only if you know how to use it. To help squeeze the most out of your campaigns, here's a quick lesson in email marketing.
Email Platform
To send an email to a list of contacts, you must have an email sending platform. Common, inexpensive platforms include Constant Contact, Mailchimp and Admail. There are many others as well, and many offer free trials. These platforms include the opt out / unsubscribe functionality needed to help you comply with CAN-SPAM laws.
The Anatomy of an Email
For an email to be effective, each component needs to do its job.
Sender Name: This part is easy to overlook, but it's important enough that you should pay attention to it. If the sender name is nothing but a string of letters or the phrase "do not reply" your email might be seen as spam. Stick to something professional.
Subject Line: The subject line gets a lot of attention, and for good reason. Most people receive dozens of emails each day. Your subject line needs to grab people's attention and convince them to click. Check out this HubSpot article for tips and examples.
Opening: Once people click on your email, you only have a moment to keep their interest. You need an opening that packs a punch. Keep in mind that the opening might be seen in the preview before anyone clicks on the email.
Body: The body of the email provides the details. You need it to be engaging and informative, but not overly long or spammy.
Call to Action: Your email should end with a strong and clear call to action. The call to action should ideally offer a next step, such as "Read More" with a link to an article, or "Download Now" with a link to a resource or "Get a Quote" with a link to your quote engine.
List: Before you can send an email, you need a list of contact email addresses. The quality of your list is one the most important determinants of your success. You need a list of engaged, opted-in prospects.
Email Content
For those who market disability insurance, DIS provides a complete library of email templates. These templates make it easy to plan and execute a campaign. Here are some key steps:
Determine your campaign goal. For example: Do you want to promote Business Overhead Expense insurance to doctors, dentists or other professionals? Do you want to remind existing clients that they may need to increase their coverage or use their Future Purchase Option?
Download our email marketing guide. This walks you through the technical aspects of email and personal quote engine set up and gives you access to our template library. You must download this guide to access the library.
Browse the library of options. The DIS email template library has more than 20 options to meet your needs. If you're not sure of your campaign goal, browse the library for ideas.
Download the template you need and set up your campaign. When you download the template, you will have a Word document which includes a header image and copy. Copy and paste these pieces into your email platform (such as Constant Contact, Mailchimp or Admail) to set up your email.
Timing Your Emails
When you send emails might be important as what you send.
The Day and Time: If you send your email at the wrong time, it might be buried. According to HubSpot, you should try to time your emails to match your audience's routine, like checking emails in the morning or during lunch break. Check out their research-backed advice.
The Frequency: You don't want to bombard your audience with so many emails that they get sick of you. On the other hand, you don't want to be so quiet that people forget about you. Consider the frequency that will appeal to your audience without becoming annoying.
The Occasions: Think about why you're sending emails. Do you have an important offer? Is an important event coming up? Is there a new development that you need to tell people about?
Personalizing Your Emails
People like to feel special. If your emails are personalized to them, they're more likely to pay attention. However, to personalize emails, you will use the merge feature of your email platform and a quality database is essential. If you merge the first name, and not all the contacts in your database have a first name, you could run into issue. Test this carefully. While personalization is ideal, it is also the source of a lot of errors.
Regulations to Watch
When sending marketing emails, you need to comply with all relevant regulations.
Truth in Advertising: Don't send emails that are misleading, or even worse, blatantly false. This will turn people off, and it could land you in trouble. Your subject line should be catchy, but it needs to be honest, too.
Unsubscribe Buttons: Give people a way to opt out with a simple unsubscribe option in every email.
Data Privacy: New data privacy laws are being passed, like the California Consumer Privacy Act. Make sure you're following these laws.
CAN-SPAM: Read up on the FTC's guide to the CAN-SPAM Act for more information on identifying your email as an ad, providing your address, and more compliance tips.
Ready to get started with email marketing? Download our email marketing guide now.
Please follow and like us: