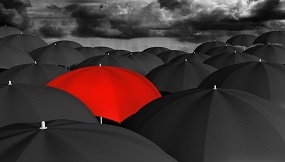 Carriers are adding attractive new features and optional riders to disability insurance plans. A few weeks ago, in The Triple-Threat to Millennials: Solved by Disability Insurance we outlined new features that addressed issues facing Millennials. Other disability insurance carriers are also getting creative with disability products, including our newest carrier, Ameritas, a premier DI company.
• Good health rewarded: Automobile insurers promote accident forgiveness and safe driving rewards. The Good Health benefit works similarly. For every year without a disability claim, the elimination period is reduced by two days. A 90-day elimination period is whittled down to 70 days after 10 years without a disability claim. It's important to note that the good health benefit will only allow someone to reduce their elimination period to 30 days. So, this feature is most helpful for those with longer elimination periods.
• Injury related expenses reimbursement: An insured not currently receiving disability benefits, may be eligible for a benefit even when not disabled. Ameritas will reimburse the insured for 100 percent of expenses associated with a non-disabling injury, up to 50 percent of the policy benefit for a maximum of $3,000 per injury.
• COBRA assistance: While receiving disability benefits, the insured will be reimbursed for COBRA premiums, up to $1,000 per month, for as long as 18 months.
• Survivor benefit: There's even a death benefit that will be distributed to the designated beneficiary when the insured dies, while receiving benefits. The death benefit is equal to three monthly benefits.
• Disability resulting from procedures: Disabilities suffered after a cosmetic surgical experience or after donating to a surgical transplant qualify as eligible disability conditions. Stipulations are that the policy must be in force six months and the elimination period must be satisfied.
All these innovative features and more are built into the Ameritas DInamic Foundation base plan. Additionally, the optional riders you've come to expect, like cost of living adjustment, future increase options, catastrophic disability, automatic increase riders and more can be added to most policies.
When you work with DIS, we give you access to top disability insurance carriers offering inventive solutions to mitigate the risk of lost income due to a disability. The risk for your client is real. GenRe estimates a 40-year-old has a 43 percent chance of suffering a disability lasting 90 days or more.
Call us today for a DInamic Foundation quote or a quote for any of our other leading-edge disability products or download the latest version of our Broker Opportunity Kit.
Please follow and like us: