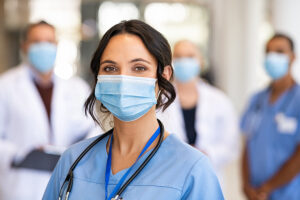 The healthcare industry is experiencing rapid growth. The U.S. Bureau of Labor Statistics (BLS) says that of the 20 industries projected to have the fastest growth between 2019 and 2029, five are in the healthcare and social assistance sector. Many of these medical professionals need disability insurance (DI). If you're only selling DI to doctors – or if you're not selling DI yet at all – it's time to expand your horizons.
The Rise of Team-Based Care
BLS says that team-based healthcare models are becoming an increasingly popular way to deliver care. This means an entire team of medical professionals works together to provide care, and they're not all doctors.
This change appears to be part of the reason for the explosive growth projections for the healthcare industry. Other factors, notably the aging population, are also increasing the need for care.
Overall, BLS says that healthcare occupations are expected to grow 16% between 2020 and 2030, which is much higher than the average projected growth for all occupations. Some healthcare positions are expected to see much higher job growth.
Between 2020 and 2030, the following job growth rates are expected:
Nurse anesthetists, nurse midwives and nurse practitioners: 45%
Occupational therapy assistants: 34%
Physician assistants and aides: 31%
Medical sonographers and cardiovascular technologists and technicians: 14%
Salaries Worth Protecting
The average salary for all healthcare occupations was $69,870 as of May 2020, according to BLS, and some medical professionals command much higher salaries. Nurse anesthetists, nurse midwives and nurse practitioners earned a median salary of $117,650 in 2020. Medical sonographers and cardiovascular technologists and technicians earned $70,380, physician assistants earned $115,390 and occupational therapy assistants and aides earned $60,950.
The educational requirements also vary, but many medical professionals need a bachelor's degree and sometimes a master's degree. Healthcare workers have invested time and money into their careers. Some of them also have substantial student loan debt. They're betting that their investment will pay off in a high income, but a disability could threaten that. This makes medical professionals excellent candidates for DI coverage.
A Demanding Industry
The healthcare industry can be mentally and physically demanding.
For example, medical professionals may have to lift patients and heavy items. They also deal with very stressful situations. BLS says that registered nurses experienced 78,740 nonfatal occupational injuries and illnesses requiring days away from work in 2020.
It's not just the risk of occupational injuries, however. If a medical professional becomes disabled for a reason that is not work-related, they may be unable to perform their very demanding jobs.
In addition to cancer, heart disease, musculoskeletal disorders and other physical illness and injuries, healthcare workers are also at risk of mental disorders. A study published in the National Library of Medicine found that the prevalence anxiety and depression was high among healthcare workers during the COVID-19 pandemic. The prevalence of anxiety was 24.94%, and the prevalence of depression was 24.83%.
Medical Workers Help Us. Now Help Them
Medical professionals provide valuable services to our community. As an insurance agent, you can return the favor by helping them secure the DI coverage they need. Getting started is easy with support from DIS. Contact your Regional Brokerage Manager to learn more.
Please follow and like us: