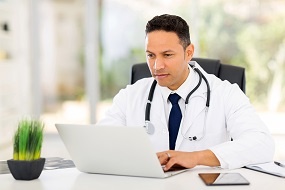 Predictions about the death of the private medical practice have been greatly exaggerated. For years, hospitals and some insurance companies purchased private medical practices, but that activity has recently decreased. According to the American Medical Association, sixty percent of physicians are employed in physician-owned practices. That represents an opportunity for disability insurance sales – especially Business Overhead Expense (BOE) insurance for private medical practices. Understanding the challenges facing small practices gives you an edge when presenting the need for and importance of BOE for the practice.
Medical practices have large salary expenses.
Almost 70 percent of physician-owned practices employ 1 to 5 physicians. According to the Physicians Practice 2016 Staff Salary Survey, most small practices (82 percent), employ an advanced practitioner such as a physician's assistant or nurse practitioner with average annual salary ranges from $80,008 to $98.007. Non-clinical staff, front-desk, medical billers, etc. add another 2 to 20 employees. The ratio of staff needed to support physicians is expected to grow even more. Data gathered from Medical Group Management Association members, shows that efficient medical practices are even more productive as the number of staff per physician grows. If a physician becomes disabled, business overhead expense insurance helps maintain practice value by covering the expense of patient care and staff salaries.
Operational costs are expected to rise.
Practices experience the typical small business challenges and then some. MGMA estimates that practice operations costs have increased more than two times the rate of the consumer price index. Rents are increasing, malpractice insurance costs are rising, and complying with the Affordable Care Act's requirement for electronic health records is a new and expensive software expense for many practices that can add $48,000 – $58,000 to the operating budget. Salaries for advanced practitioners and nurses are rising rapidly spurred by competition from hospitals and larger practices. BOE insurance will cover operating costs if a physician become disabled.
Attracting and retaining employees is a high priority.
Physician-owned practices are caught in the middle of increased reliance on staff members and offering a competitive benefit package. Employees may bear the risk of interrupted salaries if a physician in a small practice becomes disabled. It is reasonable for a potential employee to ask if the practice is prepared to continue operations in the event of a physician disability. Physicians report that staff are performing multiple roles and have seen workload increase. To be attractive to new and current employees, salaries and benefit packages must keep pace with the market. When BOE insurance is in place, employee benefit expenses will be covered if the physician is unable to work due to disability.
Business overhead expense is an attractive option.
Business overhead insurance differs from individual disability insurance. The covered physician does not receive a benefit from BOE insurance. To maintain a percentage of income while disabled, the physician must also own an individual DI policy. The benefit period is usually shorter, a maximum of 24 months. That gives the practice decision-makers sufficient time to secure a buyer, a new partner physician, or liquidate if the disabled physician is not able to return to work. Rather than paying a specific benefit amount, a BOE policy will pay only actual eligible expenses up to the maximum benefit amount. If the practice employs more than one physician, a percentage of expenses will be covered. A two-physician practice will pay 50 percent of the business overhead expenses if one of the physicians becomes disabled. Download What Expenses Are Covered by BOE Policies? to learn more about how BOE insurance can help physicians in private practice
Get started in this market with physician clients who already own individual disability insurance. You've already successfully made the case for IDI. It's a natural step to protect the business against the same risk. If you've talked to physician-clients about IDI without making the sale, make another approach focusing on protecting the value of the practice. Call your DIS representative for other ideas about how to enter the BOE market. It's a necessity for any small business especially small medical practices.
Discover more resources to help you succeed selling disability insurance for doctors.
Click here for more information about DI for business owners.
Please follow and like us: