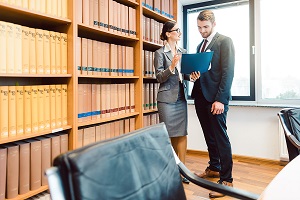 Attorneys can go into criminal law, or family law, or patent law – or any one of the seemingly countless other specialties. But all of these attorneys have something in common, regardless of their area of expertise. They're all potentially good candidates for disability insurance.
The Attorney Disability Insurance Market
In 2018, there were 823,900 jobs for lawyers, according to the BLS. By 2028, there will be 50,100 more jobs. This is a large market, and it's expected to grow steadily.
Lawyers are known as a top-earning profession, and the BLS statistics bear this out. In 2019, lawyers earned a median salary of $122,960 a year, or $59.11 per hour.
But lawyers work hard to achieve this earning power. Most lawyers will have spent four years in undergraduate school and three years in law school. They also need to pass the bar exam, no easy task.
This education doesn't come cheap, either. Most lawyers leave law school with a jaw-dropping amount of student loan debt.
Other Legal Professions
Attorneys aren't the only legal professions with an income to protect. According to the BLS, employment of legal occupations is expected to grow 7 percent between 2018 and 2028, which means there will be approximately 93,000 new jobs. The median annual wage for all legal occupations was $81,820 in May 2019.
Judges and hearing officers earned a median salary of $120,090.
Arbitrators, mediators and conciliators earned a median salary of $63,930.
Court reporters earned a median salary of $60,130.
Paralegals and legal assistants earned a median salary of $51,740.
There's a lot of variation here. Paralegals and legal assistants earn less, and they may only need an associate degree. On the other end of the spectrum, judges earn more, and they may need a doctoral or professional degree. But all of them are good candidates for paycheck protection. Because legal professionals work in the same environments, you may be able to get good referral business as well.
Selling DI to Lawyers
Lawyers are experts in logic and critical thinking. To sell to them, you need to make a solid case. The good news is that this isn't hard to do.
One in four of today's 20-year-olds will become disabled before reaching retirement age, according to the Social Security Administration.
Many people are denied Social Security Disability Benefits. When benefits are granted, payment doesn't start until the sixth month of disability, and the average monthly benefit for disabled workers was only $1258.78 in April 2020.
Lawyers have a substantial paycheck to protect. If they lost the ability to earn an income, how would they continue their lifestyle? How would they pay off their various bills and debts?
Group DI products could provide paycheck protection to everyone at a firm while simplifying the underwriting process and providing a discount.
Individual disability insurance can close coverage gaps to provide an extra layer of protection.
Lawyers with a lot of student loan debt may be interested in disability insurance policies with student loan riders.
Need sales ideas for this lucrative disability insurance market? Contact the Regional Brokerage Manager near you.
Please follow and like us: