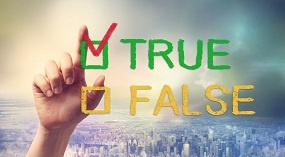 Discussing the need for disability insurance can be challenging for two reasons. According to several studies by Council for Disability Awareness (CDA) most consumers do not understand disability insurance. Likewise, there are several misconceptions about the causes and likelihood of suffering a disability that may interrupt the ability to earn a living. Every three years or so, the CDA reviews claims data from many of the industry's leading carriers.
Here are some facts from the most recent report, that may help your clients see the need to protect their income with disability insurance.
True or false? More than half a million people are receiving private disability benefit payments.
True. The CDA member companies, are paying disability benefits to roughly 653,000 people. Yet only 42 percent of heads of households have any form of disability insurance. In 2013, these companies paid more than $9.8 billion in claims.
True or false? Most disability claims are for two years or longer.
False. Most claims last less than two years. Only 40 percent of claims are longer than two years. This can help clients understand that most illnesses and injuries that interrupt the ability to work are not permanent. Most return to work in some capacity.
True or false? Most disability claims are due to a work injury.
False. More than 95 percent of claims are due to a non-work related illness or injury. In 2013, almost 29 percent of claims were due to musculoskeletal and connective tissue illnesses, by far the largest category. Cancer was the second most common cause of disability claims. Many consumers incorrectly believe that disabilities are usually due to a single, catastrophic event.
True or false? Woman are more likely than men to become disabled.
True. 56 percent of new approved claims are filed by women.
True or false? Most Social Security Disability Insurance (SSDI) applicants are awarded benefits.
False. In 2014, only 32.2 percent of first time applicants were awarded benefits. The general trend for the ratio has declined since the high point of 52 percent in 1967. In 2016, average SSDI benefit was $1,166. To qualify for SSDI benefits, the claimant must be unable to work for five months and expected to be disabled for 12 months.
Before your next client meeting share via email this short Council for Disability Awareness video that explains disability insurance and why it is important. And call your DIS representative for a quote customized to your client. We'll answer any questions you have and when you use our DI Delegate Service, we'll close the sale for you with a commission split.
Please follow and like us: