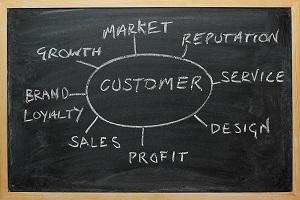 The world is going digital, and it's changing the sales profession. Although the need for disability insurance is as great as ever, some of the sales strategies you use may need to adjust with the times. Here are five trends we're seeing now.
1. Buyers are driving the sales bus.
Disability insurance agents spend a lot of time looking for prospects. Sometimes, the opposite is true, too. When consumers have a question they need to answer or a product they need to buy, they often go online.
The pandemic has boosted digital habits. According to Digital Commerce 360, online spending increased 44% in 2020. According to CNBC, Google searches for the term "life insurance" surged by 50% between March and May of 2020.
Likewise, people who are interested in paycheck protection will likely go online for help. Insurance producers who are active on social media, maintain easy-to-navigate websites and offer fast online quotes are likely to win this growing segment of internet-savvy insurance shoppers.
If you don't have a good website, get one this month. There's no excuse for not having one. You can set up a very simple, inexpensive website on your own at GoDaddy.com and through countless other website providers.
2. Sales automation is keeping pipelines full.
With the right tools, you can automate basic but time-consuming tasks, giving you more time to focus on other things. For example:
Tools like seamless.ai make it possible to find B2B prospects quickly.
Many email platforms (like outreach.io) allow you to send out automated drip marketing sequences, so you can easily stay in touch with prospects and customers.
Online quote engines, like the one available through DIS, enable clients to take control of the quoting process, which saves you a great amount of time. And DIS' proprietary Analyzer runs comparisons for you, so you can quickly and easily present three options.
Tools like Calendly make appointment setting easier than ever before.
3. Meetings have gone digital.
Remember a couple of years ago when you spent all day driving around to meet with two prospects? Those days are over. The pandemic caused everyone to learn about online meetings. And now that everyone learned how efficient it is, very few want to return to having every meeting in person.
Today's consumers expect you to ask if they prefer to meet in person or remotely. They also expect you to be able to provide a platform (such as Zoom) to facilitate remote calls. In 2021, insurance agents must be as proficient working remotely as they used to be working in person.
4. There are riches in niches.
In the old days, agents tended to focus on quantity. You wanted as many leads as possible because success was seen as a numbers game. Although quantity is still important to some extent – you definitely don't want to run out of leads – many sales agents are focusing more on quality.
Today's consumers are bombarded with ads and offers. They've learned to tune out most of the noise. This means that low-quality leads can end up wasting your time.
It also means that greater riches can be found by focusing on niches. By narrowing your focus, you can hone your message, zoom in on what really matters to a specific audience and succeed. In disability insurance, you can zoom in on a specific DI profession – like lawyers, blue collar tradesman or pilots. You can also zoom in on a specific demographic – like millennials or professional women – or you can focus on people with a certain need – like those with business loans or those who are medically impaired.
5. Trust must be earned.
Data is empowering sales agents, but that data needs to be handled respectfully. Given the rise in data breaches and identity theft, many consumers are worried about how their data is being used. Earning their trust is essential.
One way to show that you're trustworthy is to make sure you're fully compliant with regulations restricting marketing practices and data use. This includes laws like the TCPA, the Do Not Call Registry, and CAN-SPAM. It also includes the new data privacy laws that states are passing, such as the California Consumer Privacy Act.
Need Assistance?
As one of nation's most well-respected DI wholesalers, DIS is here to help independent agents succeed. Contact your closest Regional Office to discover all the support we can offer you.
Please follow and like us: