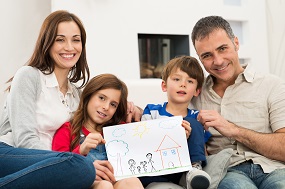 May is Disability Insurance Awareness Month. To kick the event off, we're featuring a guest post from our partners at First Command. Read on to learn one advisor's thoughts on disability insurance and how to effectively raise client awareness of this crucial exposure.
Advisor Stephen Thaeler in First Command's Layton, Utah office witnessed firsthand the devastating effects the loss of a family's income can have when his friend and neighbor experienced a shattering mental breakdown at the height of his professional career. "It was tough to watch a family used to living on close to $500,000 per year suddenly have to scramble just to pay basic utility bills and buy food," Stephen remembers. The experience made a lasting impression on him. Now, he makes sure to talk about the importance of income protection with every client.
Here are the steps he typically follows to raise awareness about this important, but too-often-overlooked planning topic when meeting with a client or prospective client:
Shares a persuasive statistic on the likelihood of a disabling event occurring. "Most people are surprised to learn that 1 in 3 Americans between the ages of 35 and 65 will have a disabling event lasting more than 90 days," Stephen said.

Asks the simple question, "What would you do and how would it affect your family's lifestyle if you were unable to work?"

Explains in straightforward terms how an individual disability insurance policy works. Stephen says a great time to recommend an individual policy is when a client receives a pay raise or promotion. It's an ideal opportunity to suggest that they use their additional pay to protect their current earnings.

Addresses clients' concerns about the cost of an individual disability plan. "I ask a client that makes $100,000 a year, "Would you rather make $98,000 a year knowing that if you become disabled, you will be okay, or make $100,000 with the knowledge that a disability would cause your earnings to drop to $0? It's a tough question for people to simply walk away from," Stephen says.

Offers to review a client's group disability policy to ensure they are comfortable with the coverage. "I always remind people that a group disability policy's benefits are often reduced by other sources of income, such as a military pension or Social Security," Stephen said.
"I've heard some Advisors say that it's tough to sell disability income insurance because so many people have coverage through their jobs," Stephen said, "but it's rarely a one-or-the-other decision when it comes to group and individual policies since an individual policy is often needed to supplement a group policy – and having an individual policy means that you'll be covered between jobs."
Stephen strongly encourages Advisors who offer disability income insurance to their clients to work with First Command business partner Disability Insurance Services (DIS). "DIS can help you with quote comparisons, case design, underwriting pre-screen and application submissions," he explains, "and since no one policy design works for every client, getting all of these details right matters."
Please follow and like us: