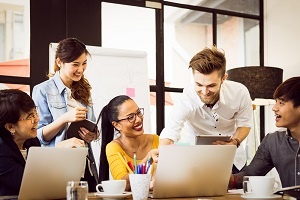 Want to kick off the year with a sales homerun? Just one multi-life disability insurance case can go a long way to reaching your sales goals. If you are on the fence about multi-life business, consider these reasons to give it another thought.
1. The statistics are compelling.
Every seven seconds a worker suffers an injury or illness that lasts at least one month. The risk of an injury or illness interrupting one's ability to work for three months or longer is as high as 25 percent for today's 20-somethings, yet most believe only one percent of workers will become disabled. The average disability claim period is more than 34 months, that equates to more than 145 missed weekly paychecks.
2. The multi-life market is growing.
Individual disability insurance new business premium increased 43 percent over the past two years. The multi-life market has more favorable experience for carriers than the individual market. As a result, many carriers are emphasizing multi-life products, features, and pricing.
3. Employers and employees benefit from multi-life programs.
More than 60 percent of sales are employee paid. Employers benefit by adding value to the benefit package without increasing expenses. Employees benefit by:
1) supplementing benefit amounts,
2) discounted premiums, and
3) relaxed underwriting
4. SSDI is not the answer.
Qualifying for Social Security Disability Insurance can be a high hurdle with strict rules. To be awarded a benefit, the disability is expected to last for at least one year or to result in death. Unlike many disability insurance products, partial disability is not covered. Initially, 72 percent of claims are denied. In 2017, the average monthly benefit amount was $1,171; the maximum monthly benefit is $2,687.
5. Small business owners need two types of disability coverage.
Business owners bear responsibility of generating personal income and financial obligations to employees, vendors, and other business expenses like rent and utilities. Suffering a work-limiting disability impacts personal and business finances. These clients need personal disability and business overhead expense (BOE) coverage. A multi-life program offers a substantial advantage to the business owner. The premiums for the BOE qualify as an income tax deduction and concerns about the owner insurability are reduced. Additionally, premiums are discounted for multi-life groups.
6. Highly compensated employees have protection gaps.
Many group disability programs cover 60% – 66% of salary and limit the monthly benefit to $5,000. For employees with annual earnings of $100,000 or more a monthly benefit of $5,000 is less than 60 percent of their earnings. A supplemental multi-life disability program closes the income gap. The decision-maker is often in this group of underinsured.Read this all-new report to learn more about Reverse Discrimination and how to solve it with our Executive Benefit Equalizer Strategy.
7. Guaranteed Standard Issue (GSI) makes underwriting easy.
Almost one third of individual disability insurance sales are guaranteed standard issue (GSI). Knowing that only half of individual disability insurance applications are issued as applied for, a multi-life, GSI program simplifies the program for the producer, the employer, and the employee.
8. Premium discounts are compelling.
Typically, premiums are discounted 15 % – 35% for multi-life cases, depending on group size and demographics and based on the occupation.
9. DIS walks you through every step.
A reliable partner like DIS, makes entering a new market (or one worked infrequently) much easier. We've got many resources to explain the benefits of multi-life business, the value of GSI programs and other ways to increase the visibility of disability in your practice. Bring your ideas for a multi-life case to your DIS representative. We will guide you through identifying prospects, making the pitch, and selecting the carrier and product.
Please follow and like us: