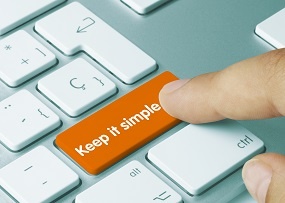 In 2013, Council for Disability Awareness member companies paid $9.8 billion in benefits. That same year 150,000 new claims were filed. Unmistakably, there is a need for disability income insurance. Yet many financial professionals don't talk to clients about paycheck protection in part because the underwriting process has a reputation for being time consuming and complicated. So, while we are focused on increasing awareness about the need for disability insurance it's a good time to increase awareness about the advantages of simplified disability insurance.
Myths dispelled
Let's dispel some misconceptions about simplified disability insurance. Simplified disability insurance products streamline the level of underwriting and underwriting requirements. Unlike a simplified issue life insurance policy, the policy is usually not abridged, the benefits are not reduced or subject to a reduction period, and pricing is not necessarily different.
Simplified disability insurance products are not guaranteed issue. The underwriting and underwriting requirements are simplified but the case is still underwritten. A prescription check is almost always ordered. If conditions not admitted on the application are revealed via the script check, the application will be fully underwritten.
Simplified disability insurance products do not offer reduced protections. The benefits, definitions, and riders are exactly the same as fully underwritten products. Although, simplified products usually limit the maximum monthly benefit the definition of the benefit and the claims criteria are the same as a fully underwritten product. Discounts and commissions are also usually the same as a fully underwritten product.
Eight reasons to consider simplified disability insurance
Simplified underwriting works only to your advantage. There are no penalties to the producer or the client when choosing simplified underwriting.
Commission is not reduced.
Many products including BOE, and Disability Buy/Sell are eligible for simplified underwriting.
Underwriting process significantly reduced. Some carriers even offer an express underwriting turnaround time.
Most simplified DI products are eligible for the same discounts, such as multi-life and association discounts.
Most riders are available.
Most elimination periods and benefit periods are eligible.
Maximum issue age is 50; some carriers even higher.
Many carriers allow all occupational classes.
Explaining simplified underwriting
There are three possible outcomes of the underwriting process; 1) the application is approved as applied for, the most common outcome, 2) the application is approved but with conditions such as an adjustment to the occupation class, a pre-existing condition is excluded either permanently or temporarily, the benefit amount applied for is reduced or the benefit period is reduced, or 3) the application is declined, the most uncommon. Only about 10 percent of applications are declined.
To simplify the time to gather and evaluate all this information, companies apply underwriting expertise developed over many years to rely as much as possible the information on the application and revealed in a prescription check to determine the applicant to be a standard risk or if additional information is required to make the underwriting decision.
Applying for simplified disability insurance
The really good news is your DIS representative knows the details of each carrier's simplified disability products, you don't have to! When you submit an application that falls within the simplified underwriting category, we'll automatically submit the application with a request for simplified underwriting. Although you don't need to know the differences of each carrier, keep in mind that eligibility is primarily based on issue ages and maximum benefit amounts. Clients under age 50 applying for a monthly benefit of $3,000 or less will usually fall within the guidelines. However, some carriers will allow for higher benefits, particularly for younger applicants so talk it over with your DIS rep.
Call us today with a few clients you might have in mind for simplified disability insurance. It's a great way to make 2016 your best DIAM year ever!
Please follow and like us: