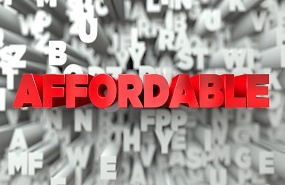 Disability insurance doesn't have to be "TOO EXPENSIVE" for regular people. By carefully structuring the plan design, disability insurance can be surprisingly affordable. Below are some ideas to consider.
1: Vary the base plan
Just like a higher auto or homeowner insurance deductible reduces the policy premium, a longer elimination period can reduce the disability insurance premium. The elimination period is the time from the onset of the disability to when benefits begin. A longer elimination period translates to fewer filed claims because the insured returns to work before the elimination period is met. Depending on the product, elimination periods commonly range from 30 days to 365 days.
Client suitability: Clients with sufficient emergency savings may opt for a longer elimination period in exchange for decreased policy premium.
Choosing a shorter benefit period is another way to reduce the base plan premium. Longer benefit periods equal higher premiums. Cadillac policies continue benefits until the disabled insured reaches age 65 or 67. Benefit periods of two, three and five years are also available. Consider that the average disability claim lasts for 34.6 months. A three-year benefit period may provide sufficient protection for many clients.
Client suitability: Especially when it means being covered or going without, a shorter benefit period may be easier to work into a tight budget.
2: Adjust definition & provisions
The definition of disability drives premium levels. Own Occ definitions are the most expensive and provide the broadest coverage. However, only the highly skilled or very specialized may need that level of protection. With an Modified Occ disability definition the question becomes, is the insured able to work even if at a lower paying occupation? If yes, then benefits end. The Own Occ definition will continue to pay the benefit until the insured can return to the same type of work prior to the disability. To learn more, download Sales Strategy Quick Tip #5 – Avoid the Own Occ Oversell.
Using a Non-cancelable and Guaranteed Renewable provision can also add a lot of cost to a policy. By quoting Guaranteed Renewable only and forgoing the Non-cancelable provision, the premium may be more affordable. Download Sales Strategy Quick Tip #6 for more on this.
Client suitability: Physicians, dentists, and other highly skilled professionals usually do best with the Own Occ definition of disability. Other white collar professionals may be sufficiently served by the more affordable Any Occ definition.
3: Educate younger clients
Disability insurance premiums are generally less expensive for younger clients. While it is wise to purchase disability insurance early in one's career, a monthly benefit sufficient for a 40-year-old may be insufficient by the mid-to- late career stages. For an additional premium, most products offer some type of optional Future Purchase Option rider, which provides for increases to the monthly benefit, often without proving insurability. Purchasing coverage early to benefit from lower premiums plus insuring the option to increase coverage later as salary levels rise is a powerful combination.
Client suitability: The client seeking a premium advantage of purchasing disability insurance while young can plan now for higher income levels later by adding a Future Benefit rider to the policy.
A sale is only successful if it fits the client's budget. With background information from you, we will develop a proposal for an affordable product that meets the client's need today and tomorrow.
Talk to all your working clients about protecting their greatest asset, the ability to earn an income. Call your DIS representative today. Also download our Sales Strategy Quick Tip #1 – How to Present the Highest Benefit for the Lowest Cost and Sales Strategy Quick Tip #3 – The Unit Selling Method.
Please follow and like us: