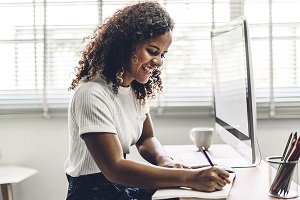 Many women are both mothers and breadwinners. According to the Center for American Progress, 67.3 percent of married mothers are employed, and 73.2 percent of unmarried mothers are employed. In 2017, 41 percent of mothers earned at least half of their family's income.
Women are taking on a lot of responsibility for their families. They're making big financial decisions – but they don't always feel confident about it.
Women's Financial Confidence Lags According to Fidelity's Money Fit Women Study, 60 percent of women worry about not having enough money for retirement, and 92 percent of women want to learn more about financial planning. The 2019 Women, Money and Power Study from Allianz actually found that financial confidence is decreasing. In 2016, 68 percent of women reported feeling financially secure. In 2019, this figure dropped to 62 percent.
Women Need Financial Advice – and Paycheck Protection
Before women can feel more confident in their role as financial decision-makers, they need the right financial advice. This advice wouldn't be complete without a discussion about paycheck protection.
Women are playing a major role in the financial wellbeing of their families. So what happens if a woman becomes unable to work because of an injury or illness? With the loss of a paycheck, the family may not have enough income to get by.
Women also need to look out for themselves. Because women have longer life expectancies than men on average, they may also need more money for retirement. At the same time, women face additional disability risks. According to the Council for Disability Awareness, pregnancy complications account for 25 percent of all short-term disability claims and 9.4 percent of all long-term disability claims.
Women who divorce or stay single may also face retirement hurdles. Other women may stay in unhappy marriages because of financial concerns. According to CNBC, research has found that financial insecurity causes many women to stay in unhealthy marriages.
Give Women the Tools They Need
Many families rely on women, and women need to be able to rely on themselves. A steady income is an essential part of financial wellbeing. With disability insurance, women can make financial decisions with increased confidence.
Are you ready to help women make confident financial decisions? Get the DI for Women Marketing Kit today.
Please follow and like us: