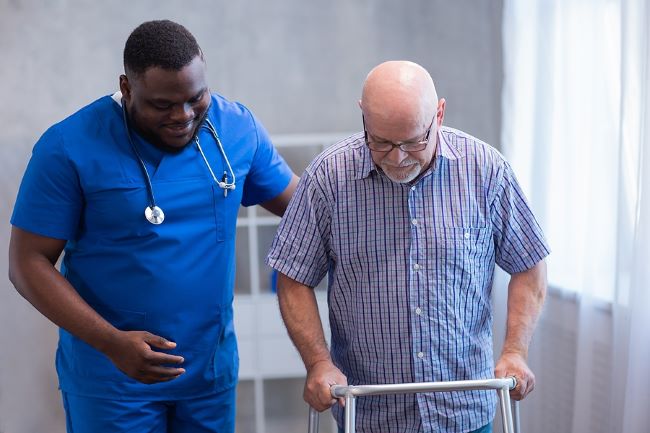 In a late-2021 survey of more than 300 nursing leaders nationwide, 92% said the nursing labor shortage would intensify over the next 18 months.
Industry experts had warned for decades that the nursing shortage would continually worsen. However, the COVID-19 pandemic put a fire under the speed at which that has progressed.
Nurses in Hospital Settings
More than a third (34%) of nurses say that it's very likely they will leaver their jobs before 2022 has ended. Nearly half (44%) cited burnout and the high-stress environment as reasons they leave. Pay and benefits are the second-leading reason (27%) that nurses quit.
Older nurses are choosing to retire earlier than planned – including many of the youngest Baby Boomers, who are turning 58 this year.
Growing numbers of younger nurses are leaving the profession altogether or moving to other positions to get away from the bedside.
Unlicensed nursing assistants have been leaving hospital roles in favor of less stressful jobs that don't require forced overtime.
With limited classroom space, few clinical preceptors, a lack of clinical sites, and not enough faculty, the output of new nursing graduates is too small to replace the turnover, let alone meet growth needs.
Most nursing leaders in the survey said they do not expect significant changes in shift duration and scheduling flexibility after the pandemic ends, despite the widely reported burnout among nursing staff.
The average shift for nurses in acute and post-acute settings is 12 hours. For ambulatory settings, it's 8 hours. Part-time and floating shifts are rarely offered, even though forced overtime has become common.
Travel Nurses
Travel nurses are registered nurses that work in temporary, short-term roles at hospitals, clinics, and other healthcare facilities. Most assignments are from 8-13 weeks in duration.
Travel nurses often deal with significant stress, as they typically carry a heavy patient load in an unfamiliar workplace and city. They may also work in high-risk areas in which they are exposed to workplace violence, blood-borne pathogens, and chemicals. Those who travel to international sites also have to deal with geographic-specific diseases and possibly additional personal safety risks.
Demand for travel nurses has soared during the pandemic to help meet critical staffing shortages, and the pay is typically well above average. It's common for a travel nurse to earn well over $100,000 annually even if they choose not to work constantly throughout the year. (During the height of the pandemic, qualified travel nurses working on COVID-19 wards were earning as much as $10,000 a week.)
Who Needs Disability Income Protection for Nurses?
Healthcare jobs will always be available, particularly in acute-care and post-acute care environments, but the ability of someone to handle the pressure, workload, and overtime may wane. Even if they can persevere and avoid burnout, nurses and medical professionals can face periods of ill health or injury throughout their working life – even more so with the amount of stress and overwork now expected.
Individual nurses have plenty of reason to be concerned about their continued earning power, especially if they are the family breadwinner. As an insurance broker, contact individual nurses to help them obtain full income protection insurance.
With the extreme nursing shortage and tight labor market overall, employers have plenty of reasons to look into disability coverage for their nursing staff. They may find that adding a multiple-life disability income protection plan is very cost-effective for attracting and retaining quality nursing talent.
Occupational Classes
As you know, premiums for an individual disability income protection policy that pays out at 82% of pre-disability net income will have an average cost between 1-4% of annual salary.
Almost all disability policies have "occ classes" for rating purposes that impact policy cost and benefits. For nurses, there are several occ classes based on the type of nurse and the setting in which they work.
Nurse Practitioners
The lowest individual disability income protection policy rates are generally offered to nurse practitioners, who are nurses with a Master's degree or higher who are qualified to treat acute and chronic medical conditions, prescribe medication, interpret diagnostic tests, and manage overall care in addition to more routine nursing duties.
The median annual salary for nurse practitioners is currently about $124,000 annually.
Nurse Anesthetists
Next in line rate-wise is the nurse anesthetist. This is an RN who has received additional anesthesia training, passed a certification exam, and is licensed to provide a specific range of anesthesia services.
Nurse anesthetists are often the highest-paid nurses, earning an average median salary of over $195,000 annually in the U.S.
Registered Nurses
Registered nurses are in the most significant demand of all nursing types and widely varied settings. The median annual salary for RNs is currently about $78,000 annually, not including overtime.
An RN with primarily supervisory or administrative responsibilities may fall into the same rating class as a nurse anesthetist. An RN working in a doctor's office may also qualify for that class. However, one who provides primary care in a hospital setting will usually rate at a higher premium than other RNs.
DIS is Here to Help
DIS is here to help you with the information and quotes you need to successfully offer disability income protection coverage to nurses, nursing employers, and other healthcare professionals. Here are two sales kits that we think you will find of great help:
For more information on short-term disability insurance and multi-life, disability income insurance and help create the proper protection packages for your nurse clients and their employers, contact Disability Insurance Services at (800) 898-9641.
Please follow and like us: