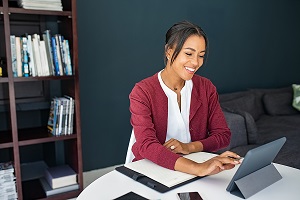 Did you know that COVID-19 wreaked havoc on women's careers and employment opportunities? According to Deloitte, seven out of 10 women who experienced negative shifts in their routine as a result of COVID-19 believe their career progression will slow down. Many of these disruptions are caused by increased care-giving responsibilities due to school closures and caring for sick or elderly relatives. In addition to the impact on women's daily routines and career opportunities, women's physical and mental health has also been greatly affected by the pandemic.
A New Wave of Self-Reliance
The pandemic made one thing clear: When things go wrong, women are often the ones left to clean up and catch up. As a result, women are now realizing the need for self-reliance – both in earning an income and in protecting their earning power. In other words, they're taking matters into their own hands.
A Shift to Entrepreneurship
It's no wonder many more women are shifting to entrepreneurship. Even though the risks of entrepreneurship are still great, more and more women want and need more control of their lives, professionally and financially.
Washington Post states that while the pandemic has been an economic disaster for women, some took advantage of it. In fact, as of mid-December, there have been more than 1.5 million new business applications in the United States, up 82 percent in the third quarter compared with a year ago, according to the U.S. Census Bureau. Many of these entrepreneurs are women and a new survey from the professional women's network AllBright found that 1 in 4 of its members plan to launch a business.
According to Wealth Management, "'The rise of women starting businesses from home – it's something we've seen in the last few years, but definitely in the last year has sped up, which is a real positive.'" In addition, a report by WealthiHer states, "women's wealth – along with their spending power – has been rising overall in recent years, driven by more education, more household equality, a longer lifespan, taking on leadership roles and more entrepreneurship."
An Even Greater Need for Income Protection
According to the DIS Women at Work DI Sales Kit, 49 percent of women report being their family's primary breadwinner.
Further, women are more likely to experience long-term disability than men. In fact, "Complications from pregnancy account for 11 percent of new long-term disability claims, and 56 percent of all new private long-term disability claims were filed by women."
With the rise in self-employment, women's need for income protection is greater than ever. When you're self-employed, you can't rely on sick days and vacation time if you have to take time off to deal with an illness or injury. You probably also don't have access to group long-term disability insurance.
Freelancers have to look out for themselves and business owners have to look out for their businesses and employees. Fortunately, there are many smart DI solutions designed to protect those who are self-employed.
Women Aren't A Niche Market – They're THE Market
While women are primary customers for DI, it's important to note that women are not a niche market. They are the market. According to Girl Power Marketing, "Women influence 85 percent of all consumer purchases, and represent over $7 trillion in purchasing power." Women are the primary decision makers for household goods and drive the purchases of:
91 percent of new homes
66 percent of computers
92 percent of vacations
65 percent of new cars
89 percent of bank accounts
93 percent of food
While this is the case, 91% of women feel that advertisers don't understand them. While men think in abstract principles, women think more holistically and are more accessible emotionally.
Considering that women are the largest segment of the U.S. population, hold more wealth in the country, and are outpacing men in earning graduate and undergraduate degrees, according to Insurance NewsNet, it's imperative to change the conversation so that you effectively speak to women when you're marketing – because 66% or more of the time, you are.
Does Your Sales Conversation Need An Update?
For ideas to make your sales conversations better aligned with the needs of women, download the DIS Women at Work DI Sales Kit.
Please follow and like us: