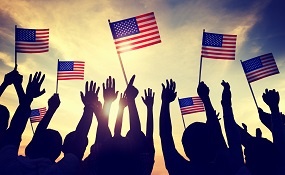 The looming SSDI (Social Security Disability Insurance) shortfall continues to be in the headlines and on the lips of many presidential candidates. With the political backdrop in mind, it seems like a good time to highlight why private disability insurance programs are so important to us as Americans.
An March 2015 Issue Brief published by America's Health Insurance Plans (AHIP) makes several great points.
Greater Good #1: Private disability insurance reduces the burden on federal programs. AHIP says that expanding private disability income protection would help to restore the long-term solvency of the SSDI program. In fact, research from Charles River Associates (CRA) found that each 10 percentage point increase in the number of working Americans covered by disability insurance would provide crucial benefits for up to 20,000 to 25,000 more workers and bring about an additional $2.8 billion to $3.5 billion in savings to the SSDI program over the next 10 years.
Greater Good #2: Fewer bankruptcies. Last year, more than one million Americans filed bankruptcy. According to ValueWalk, more than 65 to 70 percent are likely due to or related to medical expenses. One of the most common reasons cited for medical bankruptcies is the loss of income of two or more weeks due to an illness or disability.
Greater Good #3: Improved return-to-work success. The Social Security Administration reports that less than ten percent of SSDI beneficiaries return to work. In contrast, private disability insurance carriers offer successful programs that increase opportunities to continue to work as well as return-to-work. A proven benefit of private disability coverage is that short claims adjudication time, putting the client on the road to full employment faster than SSDI. Other success factors include engaging the claimant and the employer in the return-to-work plan and dedicated return-to-work services neither of which are offered by SSDI. A 2013 CRA report estimates that the level of disability management and return-to-work assistance offered by disability insurance would mean $25 billion in savings for the federal government over 10 years.
Greater Good #4: Taxpayer savings. An earlier CRA report indicates that each year, private disability insurance helps an estimated 280,000 families avoid succumbing to income below poverty levels. Related taxpayer savings are estimated between $2.25B to $4.5B annually. Yet only one-third of workers have disability insurance. Due to the significant relief to federal programs, there is a growing interest in legislation that would require employers to offer some type of disability insurance.
How do employer trends line-up?
A LIMRA study of 2014 DI sales found that the number of new group policies declined. Many employees rely on their employers to provide education and products at the workplace, yet only 16 percent of employers believe they have a role in their employee's financial health.
This adds up to opportunity for employers. Those who offer financial planning benefits in the workplace, including but not limited to private disability insurance, have a remarkable opportunity to attract and retain top talent.
Employees often misunderstand or are unaware of the features and benefits of disability insurance. In addition to providing income while unable to work, stay-at-work and return-to-work programs are important secondary benefits.
Ready to do your part to contribute to the greater good?
Tell everyone you know about the importance of securing private disability insurance. DIS makes it easy to offer disability insurance to your clients – both individuals and groups. Request a disability insurance quote online, or leverage our convenient new DI Concierge service.
Please follow and like us: