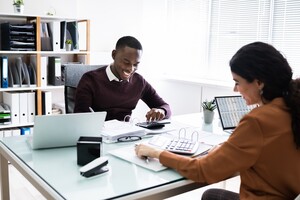 Accountants understand the importance of cash flow. If they experience an illness or injury, they might not be able to earn an income, but their expenses will keep going. Before long, the numbers won't add up. That's why accountants need disability insurance. Like other highly trained, highly paid professionals, they've made an investment in their career. Disability insurance is how they protect that investment.
Accounting is not considered physically demanding, but the work is mentally demanding. Accountants also need to work long hours. The U.S. Bureau of Labor Statistics says that overtime is common during quarterly audits and tax season. Like all people, accountants can experience disability in many ways. They may be injured while enjoying a vacation at a ski resort, for example, or they may be diagnosed with cancer.
When a disability strikes, it may keep them from their job. The medication used in treatment may inhibit their mental focus. In short, they may not be able to work. Accountants help other people maintain their financial records. They also need to take care of their own finances. Because their paycheck is likely their most important asset, they need to protect it with disability insurance.
If you want to sell disability insurance to your accountant prospects, use our "Why Accounting Firms Need DI" handout as a resource.
Download your "Why Accounting Firms Need DI" handout today.
Please follow and like us: