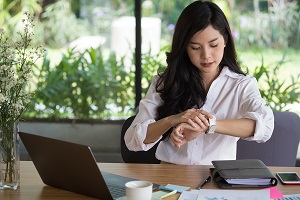 May will soon be ending but anytime is a great time to promote disability insurance awareness. The Council for Disability Awareness (CDA) provides some fantastic resources that will help you talk to your clients about the importance of protecting their paycheck. Use them now and throughout the rest of the year.
Reasons to Go Beyond DIAM
Most people depend on their paycheck, but fewer people protect their income with disability insurance. Every year, the CDA works with the insurance industry to help educate people on this key coverage during Disability Insurance Awareness Month (DIAM).
This information may be more important that ever. According to the CDA, Americans are facing a triple threat:
Fewer employers are providing benefits.
Medical costs are rising.
Many Americans lack emergency savings.
Because of these three threats, an illness or injury can easily lead to extreme financial distress. Paycheck protection is the solution to this growing problem.
Get the Facts
The CDA offers a fact sheet full of up-to-date information on disability insurance.
For example, did you know that one in four of today's 20-year-olds will experience a disability before reaching retirement age, but at least 51 million working adults don't have disability insurance other than the coverage available through Social Security? And while many people assume Social Security will be enough, only one-third of applications are approved, and the average benefit is only $14,808 a year.
And that's just the tip of the iceberg. Get the fact sheet and share the information with your clients.
Read and Share Articles from the CDA Blog
There's a lot to say about disability insurance. After all, losing a paycheck can impact nearly every aspect of a person's life. The CDA blog offers more in-depth information on a range of crucial topics related to disability insurance.
Here are just a few of the great posts you'll find:
Be Social
Insurance agents are busy, and social media can eat up a lot of your time. To make things easier, the CDA provides suggested posts complete with images for Facebook, LinkedIn, Twitter and Instagram. It's a great way to get the word out about paycheck protection – without spending a lot of time trying to craft the perfect message and find a good image.
Get the social media posts and share some of them today.
Disability Insurance Awareness Month only lasts through the end of May, but the need for paycheck protection continues year-round. Help your clients understand what losing a paycheck could mean for them. Then help them protect their paycheck with disability insurance. If you're not yet contracted with DIS, download our Broker Opportunity Kit today!
Please follow and like us: