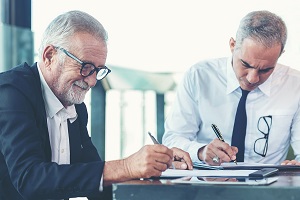 Executives work hard, and they are well compensated for it. But what happens when an injury or illness means they can no longer work? While many people – including the executives themselves – might assume that they will be fully covered by their long-term disability insurance policy from work, this isn't always the case. In fact, executives often have WORSE disability insurance coverage than the average worker.
Maximum Benefit Amounts and Executive Salaries
As you know, a disability insurance policy does not replace 100 percent of the insured's salary. A typical policy might replace up to 60 percent of the salary.
However, in employer-sponsored long-term disability insurance plans, there's often a maximum benefit amount, such as $5,000 per month. That might sound like a lot to the average worker, and for anyone earning under about $100,000 per year, it should be sufficient. For high earners, however, the maximum benefit amount can mean that a typical disability insurance policy doesn't replace anywhere close to 60 percent of the regular salary.
Executives will usually fall into this group. According to the Bureau of Labor Statistics, the average salary for general and operations managers in professional, scientific and technical services is $138,520 per year as of May 2018.
Let's round the average to $140,000 per year. That's about $11,667 per month. If we calculate 60 percent of $11,667, we get just over $7,000. That's about $2,000 more than the maximum benefit amount for a typical disability insurance policy – which means we already have a paycheck protection gap of $2,000.
And remember – this is just the average salary. As the salary increases, so does the paycheck protection gap. An executive with an annual income of $200,000 is earning about $16,667 per month, and 60 percent of that is $10,000 per month. That's twice the typical maximum benefit amount.
Give Executives the Coverage They Need
Imagine going from more than $16,000 a month to only $5,000 a month. It's a big difference.
An executive who experiences an injury or illness might be in for a rude awakening when they realize how much their income is being cut. They have expensive mortgages and other bills to pay, and their family's lifestyle may have to change drastically as a result.
But it doesn't have to be this way. With the right coverage options, executives can get the paycheck protection they need.
For example, adding a Guaranteed Standard Issue multi-life disability insurance product is a simple way to provide extra coverage for all of the high-earning executives in a company. The premiums can be paid by the employee or the employer, or premium payment can be shared.
Download our GSI disability insurance case study or our free Executive Benefits Equalizer Sales Guide to learn more.
Please follow and like us: