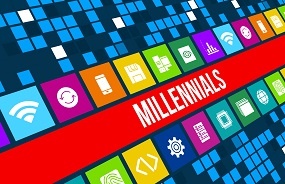 According to Business Insider, major brands want to win millennial business. Some are even "taking drastic measures." A new pretzel-bun burger at Wendy's. No more kids' meals at Taco Bell. A bowtie-shaped Budweiser can. Small, hip Walmart outlets cropping up on college campuses.
Not every effort is successful, but their goals stem from the same place. "Millennial customers — 80 million in the U.S. alone – are about to become the most important customers your business has ever seen," said Micah Solomon at Forbes. They're "not only the largest generation in U.S. and world history, they're on the cusp of commanding the largest wallet power as well."
In this case, what's true in retail is true for insurance as well. So which brands have the knack for attracting a millennial audience, and how can we apply these lessons in insurance marketing?
Four ways to tailor effective insurance marketing to reach millennials:
In a recent post, Mindy Weinstein at Search Engine Journal gave a survey of ten companies that are successfully taking their cues from what millennials want. Here are a few of the patterns she identified, with some additional insight on how insurers can channel them.
1. Disrupt the market. What do Dollar Shave and Progressive have in common? A disruptive innovation that turned traditional products and pricing on its head. Dollar Shave did it with mail-order razors; Progressive did it by pioneering insurance telematics.

2. Follow your audience. Netflix didn't just capitalize on the changing culture of movie rentals. It also caught onto the social craze, using social platforms extensively to capture millennial audiences. Two lessons here: go where your audience is, and don't be afraid to evolve – be eager.
For example, it's well-known that millennials are inseparable from their smartphones, and those who grew up in the digital revolution expect digital everything. Integrate your insurance offerings with their smartphones, and you're onto something.
3. Invite them to play. Coca-Cola let millennials write their name on a bottle; Chipotle enlisted their help in creating shareable content. Both brands affirmed the importance that millennials place on being unique, and both invited their participation.
How can insurers follow their example? Acknowledge each driver's uniqueness through a behavior-based pricing structure, and entice them to hone their skills by participating in driver coaching and scoring.
4. Communicate a cause. Millennials are, on the whole, a socially-conscious generation. If you can help make the world a better place, you can draw a millennial following. That's what TOMS did: by donating a pair of shoes for every pair it sold, it was able to grow into a multi-million dollar company.
If finding a cause unrelated to your industry feels like too great a leap, consider the ways in which your business is already helping. For example, UBI makes insurance accessible to low-income drivers, providing coverage to those who've never been able to afford it. Everybody drives. Everybody should be protected. There's a lot of good in that.
How quickly will your efforts pay off?
"According to a recent study, it can take less than a year," said Kate Taylor at Entrepreneur. When the digital advertising agency Moosylvania conducted two back-to-back surveys on millennials' favorite brands, it saw a serious uptick in nineteen very interesting cases. These businesses hadn't made it onto the list the first time – but nine months later, they were among the top fifty.
How did they do it? By paying attention to what millennials look for, and tailoring their products and marketing to fit. We wish you luck as you do the same!
Want more insurance marketing tips and advice? Subscribe to our blog in the top right corner of this screen. Want to provide a millennial prospect with an awesome disability insurance quote? Get it here.
Please follow and like us: