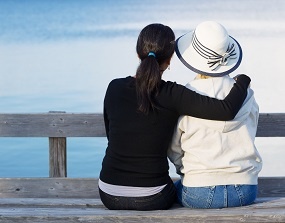 The threat of long-term care weighs heavily on the minds of many Boomers and their adult children. Boomers are often concerned about how long-term care expenses could drain their assets. Likewise, adult children worry about their parents' ability to cover the expense of long-term care.
According to Pew Research Center, 75 percent of adult children see helping aging parents financially as a responsibility – one that may make it difficult to achieve their own financial goals. The worries of adult children are not limited to finances. Intentions about housing, powers of attorney and other estate planning matters of an aging parent may be unknown. Raising these issues with parents can be uncomfortable for both the parties, yet it is essential.
As an insurance or financial advisor, you probably have clients from both generations, each with a need for a frank talk about long-term care and other considerations that come with growing older. We've made it easy for you to help your clients get this important conversation started. Download our conversation starter, "The Long-Term Care Talk: Keeping the Conversation Productive and Positive" here.
Getting the conversation started can be the largest hurdle.
Our guide outlines the steps to a successful series of conversations. It offers suggestions about how to prepare; questions to ponder beforehand; tips to keep the conversation productive; and a place to record notes. The guide ends with a recommendation to consult professionals for further assistance.
How to use the guide to generate long-term care leads:
Once you download the guide, there are several ways to use it to increase long-term care awareness.
Include it as an attachment in an email. Families are often together at Thanksgiving and throughout the holidays. Encourage your clients to invite siblings and other family members to participate in the discussion while family members are together. Send a special email with the guide as an attachment to remind clients that the holidays are the ideal time to celebrate, reflect and prepare for the future.
Share with current 50+ clients as part of your periodic review. Print the guide and share it with your older current clients as part of a periodic review. Use it to transition from a conversation about retirement accounts to long-term care insurance. Parents may also be reluctant to talk about long-term care with their adult children. This guide can make it easier for them to take control of their futures and to communicate important expectations.
Offer to new clients and younger existing clients. Your Gen X and Gen Y clients may feel hesitant about broaching the long-term care conversation with their parents. Explain that their own financial planning goals could be derailed if their parents have not planned to fund long-term care. Once Gen X clients have addressed long-term care with their parents, they may be even more interested in it for themselves.
Collaborate with an estate planning or elder care attorney. The guide references the need for professional services such as advanced directives, power of attorney and other tools. If you have a reciprocal relationship with other professionals, their clients might also find this piece helpful.
As always, DIS is your long-term care insurance partner. Remember that we support you through the entire long-term care process, from quoting to issue. Request a long-term care insurance quote. And download our guide today!
Please follow and like us: