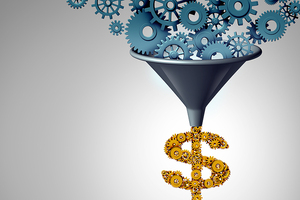 It's a good time to be working in insurance sales – as long as you have the right insurance sales strategies. It's not just about your referral program, email marketing, or insurance leads, either. It's also about the products you sell. Here's why you should consider adding disability insurance to your practice.
Insurance Industry Competition Is Fierce
Insurance sales have been booming. In the first half of 2021, LIMRA says that life insurance saw the highest policy sales growth since 1983, while J.D. Power says that auto insurance shopping surged during the pandemic. People are buying insurance, and that means there's a potential for lucrative sales. At the same time, insurance sales professionals face a lot of competition, both from other brokers who are selling insurance and from direct-to-consumer websites.
To be successful, you always need to be improving your insurance sales strategies, and this includes expanding into new markets so you can cross sell to existing clients. Right now, selling disability insurance can be a great way to increase your insurance sales for a number of reasons.
Beyond Life Insurance: Why DI Is Key to Financial Protection
If you had to identify your most important financial asset, what would you pick? You might be tempted to say it's your house. For many people, their house is their most expensive purchase ever. Cars, boats, jewelry and artwork may be up there in value, too.
But none of these things can compete with your paycheck.
A small percentage of people are independently wealthy. They don't need to worry about earning a paycheck. For most people, however, a regular paycheck is the essential foundation that financial stability is built upon. If the paychecks disappear, the house, the car, and all the other assets may follow.
That's why it's important to protect your paycheck – and that's exactly what disability insurance does. If a person becomes unable to work due to an illness or injury, disability insurance can replace a substantial portion of the lost income.
And yes, the odds of that happening are pretty high. According to the Social Security Administration, just over one in four of today's 20-year-olds will experience disability before turning 67. In contrast, only one in eight will die before reaching age 67. For working-age adults, the odds of disability are much greater than the odds of death, so why do so many insurance agents push life insurance but not disability insurance? Disability insurance deserves your attention, too.
The Need for Disability Insurance Is High
Disability insurance has a large market. Doctors are a common audience, but all high earners who depend on a paycheck can benefit from coverage. This includes nurse practitioners, dentists, attorneys, accountants, pilots, athletes, business owners, executives – the list goes on and on.
Some of these professionals already have disability insurance coverage, but many do not. According to the Council for Disability Awareness, one in three working Americans lacks adequate disability insurance coverage.
Right now, the need for disability insurance coverage might be increasing. That's because many people are changing jobs, and some of them are leaving traditional employment in favor of independent contractor arrangements or business ownership. Employees sometimes have access to group long-term disability insurance through their job. It might not provide sufficient coverage, but at least it's something. Self-employed individuals don't typically have that coverage, making the need for individual disability insurance even greater.
DI Sales Provide an Attractive Commission for Insurance Agents
There's another reason to sell disability insurance: It can provide a great commission.
You can earn a 50% commission for first-year individual disability insurance sales. That's pretty good right there, but it gets even better because you can also get a 10% commission on renewals. Disability insurance policies tend to have high persistency rates, renewing for 12 years on average, so the potential for residual income is very high.
Your commissions can be even better when you and your clients take advantage of the future purchase option rider. This is a common clause in disability insurance policies, and it gives the policyholder the ability to purchase additional coverage without medical underwriting. As the policyholder's annual income increases, this can be a great option. It's also great for you because you can earn a first-year commission again.
You're Helping Your Clients and Yourself
When you add disability insurance to your practice, you help your clients by giving them access to the paycheck protection they need. You can also help yourself at the same time. It's not just about the lucrative commissions, either. By selling disability insurance, you can protect your career.
Imagine you have a client – we'll call her Sarah – who comes to you for help with insurance products. You've sold her life insurance, health insurance and maybe some other products as well, but you haven't offered her disability insurance. Then Sarah is diagnosed with cancer, and she's not able to work. That's when she realizes she needs paycheck protection, but by then, it's too late. At this point, Sarah might blame you for failing to educate her on the importance of disability insurance. She might even accuse you of professional negligence.
That's an extreme case, but it's not the only way things can go down. Let's say you have another prospective client, Brad. You talk to him about getting life insurance. Then another broker talks to him about life and disability insurance. Brad decides he needs both, and it's easier to get it from one broker, so he goes with your competition. The other broker gets two sales, and you get nothing.
These examples show why cross selling disability insurance should be part of your overall insurance sales strategies. When you offer paycheck protection, you can make more sales, earn more commissions and keep your clients happy. It's a recipe for long-term success.
Get the Support You Need to Get Started
Disability insurance offers a great opportunity for any insurance sales professionals, and seizing that opportunity is easier than ever when you have DIS by your side. We offer free coaching, as well as the tools you need to succeed.
Make disability insurance part of your insurance sales strategy today. Our DI Broker Opportunity Kit includes information on our quote engine, product options, FAQs, an overview of often-overlooked sales opportunities and more. Get your broker kit.
Please follow and like us: