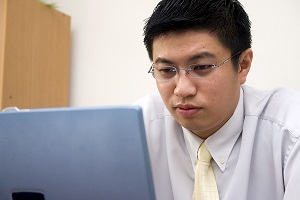 To reach clients in 2019, you have to be where they are – the internet. According to Pew Research Center, 45 percent of U.S. adults say they go online several times a day, while 28 percent report being on the internet almost constantly. People turn to the internet for many things, including information. You want to position yourself as a trustworthy and reliable source, and that means you have to meet the following three requirements:
1. Have a Modern, Up-to-Date Website
How important is your website? According to the 2018 Insurance Barometer Study from Life Happens and LIMRA, 67 percent of consumers say they wouldn't do business with an agent or advisor with an out-of-date website.
Your website should be professional, informative and welcoming. It should not make people wonder whether you're still in business. Here's what you need:
Good layout. The website should be easy to navigate. Avoid cluttered pages and broken links.
Contact option. If people want more information, make it easy for them to request.
Fast loading speed. People will move on quickly if your website is slow to load.
A blog is a great way to keep your site updated while providing useful information that will establish you as a trusted expert.
Local search optimization. If people search for an agent in your area, you want to show up in the search results.
SSL certificate. Be sure that your website has an SSL certificate so is shows as SECURE in the browser bar.
2. Be Active on Social Media
Whether you love it or hate it, you can't deny that social media is an essential marketing tool. According to a 2019 survey from Pew Research Center, 69 percent of U.S. adults use Facebook, 37 percent use Instagram, 27 percent use LinkedIn and 22 percent use Twitter.
Social media provides a way to expand your online reach, but an abandoned account won't help.
Pick a couple of sites. You don't need to be on every platform. Focus on the ones that you like and that your prospects use.
Post regularly. You need to be posting every week. Every day is even better.
Don't forget to be social. Reply, like and repost good content from others.
3. Back Up Your Online Presence with the Power of Face-to-Face Meetings
The internet is important, but it hasn't completely replaced real life. (At least not yet.) According to the 2018 Insurance Barometer Study from Life Happens and LIMRA, more than half of millennials research life insurance online but purchase from an insurance professional.
It's easy to ignore someone on the internet. It's harder to trust them. Maybe this is why a study published in the Journal of Experimental Social Psychology found that face-to-face requests are 34 times more successful than emailed requests. If you want to be persuasive, you want to meet in person.
Your strategy should combine digital and in-person tactics for optimal results.
Update your business card with your contact info, including your social media and website links.
Use digital interactions to schedule in-person meetings.
Connect with your prospects frequently, using a variety of mediums including social posts, blogging, personal emails, newsletters and phone calls.
Schedule a face-to-face meeting at least twice a year.
Need information to share? Check out the consumer articles and handouts here and the tweetable facts here.
Please follow and like us: