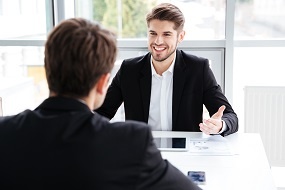 Have you been reluctant to target millennials in your practice? Based on the sheer size of this generation, they're a worthy focus. Even more motivating than the numbers (83+ million), millennials are predicted to be the beneficiaries of the largest wealth transfer in history, inheriting $30 trillion in assets from aging relatives. The opportunities for financial professionals are limitless yet some financial advisors struggle to make changes necessary to attract a younger clientele. Follow these tips to prepare your practice to attract and retain Millennial clients.
Help millennials see themselves in your practice
The obvious age gap, emphasized by the fact that the average age of financial professionals is 50.9 and more than one third are 55 to 64 years old, is not lost on potential millennial clients. Only 11 percent of financial professionals are 35 or younger. The advisor's age is beyond control but can be mitigated with the addition of a junior advisor. Cerulli Associates, a consulting firm catering to the financial services industry, recommends bringing millennials into the practice offering mentoring and training in a specific area of the business.
Like all prospecting efforts, attracting millennials (either as employees or clients) is easier when you understand your target market. Generally, you can expect millennials to be socially connected, digitally savvy, health conscious, and socially responsible. When wearing the employer hat, rethink compensation and benefits. A gym membership and time to connect on social media may actually be more persuasive than an unnecessarily generous salary. Highlight charitable organizations and activities on your website, LinkedIn profile, and other social media outlets. Encourage millennial employees to be engaged, maybe offering time off throughout the year to participate in community events.
Three small steps that make a big difference
Be relatable. Millennials are distrustful of financial professionals, which is another reason to add millennials to your staff. Remember that millennials prefer to self-educate so pack your website with helpful, empowering information. Frequently update your social media pages. Also, consider adding digital meetings as an optional method to meet with clients. When you meet, use a tablet to illustrate key points, and be very transparent and forthcoming about how you are paid.
Consider new services. To address millennials' unique needs, you may need to add new services to your practice. For example, millennials need advice and guidance in reducing college debt, 401(k) investing, and negotiating job offers, especially regarding benefit packages.
Rethink fees structures. Consider bundling some of these services and charging a flat fee. For example, assign the college debt reduction service to a new millennial advisor. This first step of a new relationship can establish trust and position your firm to provide broader services. The senior advisor can be called upon for the more complex and specialized products and services. Junior advisors may be in the best position to initiate the disability insurance discussion with a millennial client concluding with an introduction to a more senior advisor.
By making a few small changes, you'll take a big step forward in preparing your practice for the future. Need DI info to share with younger clients? The Disability Stat Pack and our 4 Compelling Reasons for Paycheck Protection are two great choices.
Please follow and like us: