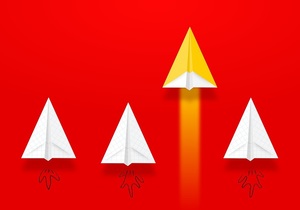 In the insurance market, you face stiff competition every day from agencies selling essentially the same products you're offering. That means you need every advantage you can get to stay competitive. And you know that leads are your lifeline to that market.
Your competitors know it too, and unless you're buying exclusive leads, you're chasing many of the same prospects they are – prospects whose decision to buy often comes down to who can respond and meet their needs the quickest.
In other words, if you want to write more life and disability insurance quotes, speed to lead is crucial.
Today's Consumers Expect Fast Responses
It's fair to say that modern consumers can be impatient. When consumers want something, they want it NOW.
HubSpot Research found that 82% of consumers say that it's important or very important to get an immediate response to marketing or sales questions.
When you consider the brief shelf life of an online lead and the fleeting attention span of most prospects today, a lack of speed is baffling – but it's also common.
Can You Beat Your Competition?
According to Xant's Lead Response Management 2021 study, the conversion rate decreases by eight times when the first call response time is longer than five minutes. Yet 57.1% of all response attempts occur after an entire week has passed, and 77% of leads are never responded to at all.
So why do so many insurance agencies let these leads go cold, or fail to respond at all? Some common reasons include …
The entrenched practice of retrieving leads from CRM systems' databases daily rather than continuously
Rules for distributing sales leads among agents and partners based on geography and "fairness"
Sales forces that are focused on generating their own leads rather than reacting quickly to customer-driven queries
In summary, if your insurance leads aren't converting as well as you'd like, take a closer at sales responsiveness at every point in the disability insurance quote lifecycle.
How long does it take for first response?
Do you deliver the first disability insurance quote in 24 hours or less?
How quickly do you follow up with the client to gauge interest?
How quickly do you reply underwriting questions?
When the policy is issued, how quickly do you deliver and finalize?
When every second counts, your response time can mean the difference between a sale and a lost opportunity. Request a DI quote here.
Please follow and like us: